Join us for the Essity Fox Valley Tough Kid Challenge on October 5, 2019! The Fox Valley Tough Kid Challenge is about a 2-mile non-competitive obstacle course challenge featuring 26 agility and strength obstacles for ages 6 to 13. This fun-packed event is open to all Northeast Wisconsin kids and is an annual fundraiser for the Appleton Area School District's Physical Education programs. Money raised from this event will benefit grants to encourage innovative physical education programs and the Education for Healthy Kids Institute in the Appleton district.
The cost for each participant is $12. If you register before September 14, 2019 the cost is only $10. Parents can run with children for free. Each participant will receive a t-shirt, slap bracelet and a finisher's dog tag that says, "Fox Valley's Tough Kid Challenge Finisher". (Please note: Parents and unregistered siblings will NOT receive t-shirt, slap bracelet or finisher's dog tag necklace).
Do you have a little brother or sister? The Kiwanis Club is also sponsoring a Toddler Tough Kid Challenge course. This is FREE to participate and no registration is required for this mini-course.
Hungry? Breakfast or Lunch? We will also have food trucks!
Also enjoy Police and Fire Department displays.
Tough Kid Challenge Details
Who: boys and girls, ages 6 to 13 (parents are free)
What: 1.5 – 2 mile obstacle course
When: October 5, 2019 (waves begin at 8:45 am until 1:45 pm, must arrive 60 minutes before wave time to check in)
Where: Highlands Elementary School, 2037 N Elinor St, Appleton, Wisconsin
Cost: $12 (Register by September 15. 2018 for $10)
For more information and to register visit:
www.toughkidchallenge.com
The Course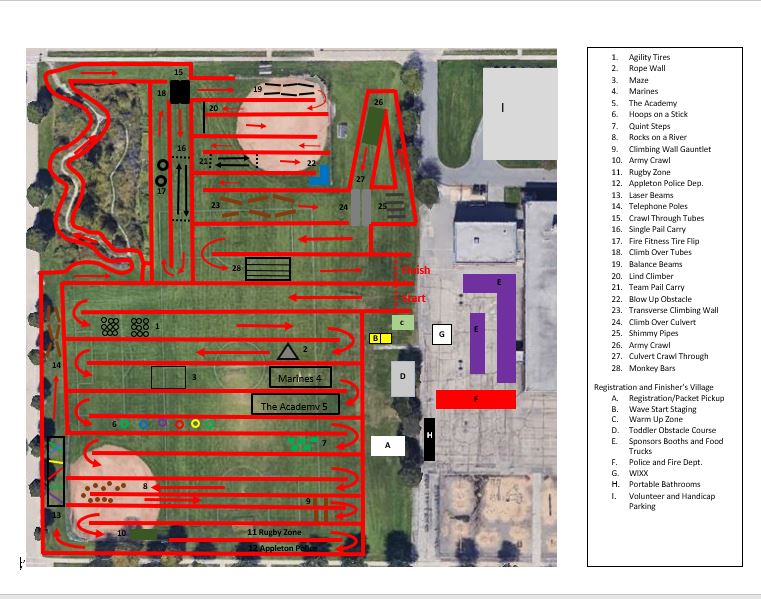 More Information & To Register