Navigating insurance is no one's favorite activity; it can be confusing and time-consuming. Go Valley Kids is excited to partner with Together with CCHP, a local health insurance option from Children's Community Health Plan, offering incredible customer service, and wellness incentives (hello, gift cards!).
Although affiliated with Children's Wisconsin, Together with CCHP offers benefits to adults too. They have been offering affordable health insurance to thousands of individuals and families in Wisconsin on and off the Marketplace by providing access to their network of high-quality healthcare providers since 2017.
They will help you eliminate all of the trouble spots of signing up for new insurance with an enrollment agent to walk you through the process and get you back to the most crucial part of your day, answering the dinner question for the second or fifth time.
Why Members Chose Together with CCHP for their Health Insurance Needs
Plan Features
CCHP on Call – No-cost 24-7 nurse line with MD consultations
Award-winning customer service
High-quality provider network
Preventative care paid at 100%
Locally based plan – Community focused and driven.
Wellness incentives


Member access to high-quality health care from a broad network of providers in the following counties:
Brown
Calumet
Door
Kenosha
Kewaunee
Manitowoc
Milwaukee
Oconto
Outagamie
Ozaukee
Racine
Washington
Waukesha
Winnebago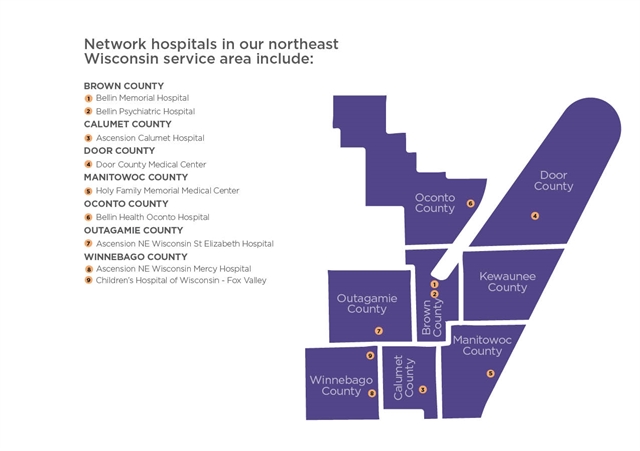 Where and when can I enroll for coverage?
During Open Enrollment, which runs from November 1 through December 15, individuals and families can officially enroll in a plan. If you do not enroll during this period, there are Special Enrollment Periods where certain life events allow you to enroll in a health insurance plan throughout the rest of the year:
You had a baby or adopted a child
You got married
You moved
You lost coverage under a previous plan
For a full list of other qualifying life events, visit healthcare.gov
For help enrolling, contact 844-708-3837.
What is the benefit of working with a licensed agent?
Agents are licensed experts that will work for you by helping to explain the differences between plans and carriers in language that you will understand. Their expertise makes them the perfect person to help you to choose a plan that is the best fit for you and your family. They will help you understand what subsidies you qualify for and have you confidently set up with coverage for your family in the coming year.

Agents are also your advocate! They will help you to make sense of the often confusing explanation of benefits and to help with any issues, complaints, or questions about your premium bill.
Want to do a little research before you commit to a phone call? Together with CCHP offers an online quote tool that walks you through finding the right plan and getting a quote: https://childrenscommunityhealthplan.org/Members/Marketplace/Online-Quote-Tool
What is a subsidy?
A subsidy is a financial support that helps you pay for something. The federal government offers two kinds of subsidies for individuals and families on the Marketplace:
The Advanced Premium Tax Credit – Helps by lowering your monthly health insurance payment, or premium.
Cost Sharing Reduction – Helps reduce out-of-pocket costs


Together with CCHP
The Together with CCHP Team is available Monday through Friday from 8 am to 5 pm to answer any questions you may have about Open Enrollment, and to help direct you to one of our local health insurance agents. Find out why members are stating that "you get more than what you pay for with Together with CCHP".