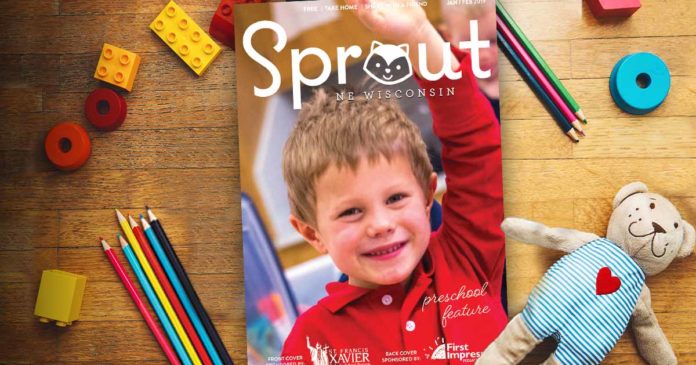 Letter from the Editor, Sprout Fox Cities
Our home is full of transitions this year. And for me, transitions often come with doubt and anxiety. This past week I also became a victim of the dreadful Mom Guilt, reminded by my six year old that I am always working and never come to lunch at school anymore. Sorry to burst your bubble … but I don't have it all together … and never will. This is why I believe the Go Valley Kids community is so important to not only me but for you as well. My work
is not done here yet. It is my hope that you find this community encouraging and resourceful. Together we will figure out what we are doing and celebrate each other in this rewarding, yet extremely difficult job of parenthood.
Lift each other up. Encourage one another. The days move slowly but the years pass fast.
Thanks for coming along this journey with me.
PS… If you have any ideas or need a virtual hug please don't hesitate to send me an email
at amanda@govalleykids.com.
Enjoy the latest issue of Sprout Fox Cities!
Special Feature

Special Thanks!

Special thanks to all of our advertisers and contributors that brought this edition to life!
Liz Schultz, Chief Editor
Jean Flunker, Editor
Luis Chavez, Distribution
Xavier Catholic Schools
St. Mary Catholic Schools
Classical School
Fox Valley Christian Academy
YMCA of the Fox Cities
Mount Olive Lutheran School
Mayflower Nursery School
UW Oshkosh Head Start
Celebration Lutheran School
Peace Christian Preschool
Holy Family Catholic School
St. John Sacred Heart
Little Critter Pediatric Dentistry
Badger Sports Park
Appleton Public Library
Appleton Bilingual School
FitForFamilies.org
First Impressions Pediatric Dentistry
Home Subscription
Interested in getting Sprout delivered right to your home? We will send you 5 issues for just $20. Send us an email at govalleykids@gmail.com.
Advertising
Consider affordable advertising with Sprout Fox Cities – the area's only family and parenting focused community magazine featuring events, dining, non-profits, and shopping in the Fox Cities. For information and rates on advertising email govalleykids@gmail.com.
About Sprout Fox Cities
Sprout Fox Cities is a locally, family-owned magazine that publishes local stories, connects local shops with the community, promotes family events, and focuses on life and fun in the Fox Cities!
For more information visit: sproutfoxcities.com
Save
Save
Save
Save
Save
Save