Classical School, a tuition-free kindergarten through 8th grade charter school in the Appleton Area School District, is hosting two informational sessions for parents of prospective students on Monday, December 13, 2021 and Wednesday, January 19, 2022 at 6:30 pm at Classical School. The sessions will include a presentation, time for questions, and a tour of the building.
Education at Classical School is engaging and academically rigorous as well as delivered within the classical education framework, a methodology that corresponds with the developmental stages of the learner. The school day is structured around teacher-led instruction during which every educational minute matters. Practices that stand the test of time — skill-based groupings in reading and math, the Socratic method of instruction and questioning, and the study of logic — are honored at Classical School.
The foundation of Classical School's curriculum is the content-rich, knowledge-based Core Knowledge® sequence, which includes science, mathematics, language arts, classic literature, English, history and geography, music, and visual arts. Reading instruction begins in kindergarten using the highly-effective Direct Instruction program. Once students learn to read, instruction focuses on the further development of fluency skills through literary analysis, vocabulary development, and the introduction of more complex syntax in unabridged, classic literature. Grammar and writing are emphasized in all grades and content areas. Math instruction begins in kindergarten and is delivered through the Saxon Math program, which emphasizes mastery of skills. Most students at Classical School complete algebra or geometry by the end of the eighth grade.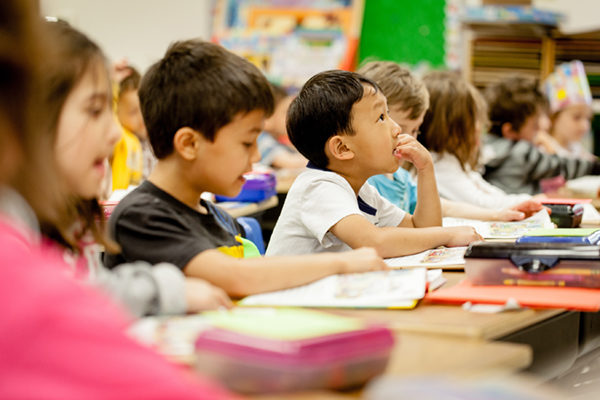 Students at Classical School also receive:
A solid common knowledge base of American and world history, geography, science, and the fine arts –
including a solid base in art history and music history.
Daily Spanish language instruction beginning in kindergarten.
Exposure to Latin and Greek beginning in 4th grade.
Instruction in the area of informal fallacies of logic in 7th & 8th grades.
Physical education, art, and music classes each week for all grades.
Optional lessons in Orchestra (4th-8th), Band (5th–8th), and Choir (7th & 8th).
Classical School began operating in the fall of 1999. We currently enroll about 490 students in kindergarten through eighth grades. Classical School strives to develop graduates who are critical thinkers, coherent writers, confident speakers, thoughtful leaders, and virtuous citizens.
Interested in Learning More?
Attend either of the informational sessions, visit the school's website at www.classicalcharter.com, or contact Sara Schroeder, Enrollment Specialist, at schroedersara@aasd.k12.wi.us to learn more about our committed, K-8 Classical School community.
Upcoming Informational Sessions
Monday, December 13, 2021 or Wednesday, January 19, 2022 from 6:30 pm – 8:00 pm at Classical School
Classical School of Appleton
3310 N Durkee St, Appleton, Wisconsin
www.classicalcharter.com
The Appleton Area School District does not discriminate against students on the basis of sex, race, color, religion, age, national origin, ancestry, creed, pregnancy, marital or parental status, sexual orientation, gender identity, gender expression or physical, cognitive, emotional or learning disability in its education programs or activities.

Save