This is a series of posts dedicated to real world, tried and true, practical advice for coexisting with your tiny humans. This is not "Sleep when your baby sleeps" type of advice. This is all about what to stock in your diaper bag (can you guess why I suggest post its?) and where to find the best deals on kids clothes and toys (hello rummage sales)!
[Photo Source: Petunia Pickle Bottom Diaper bag pictured above is available at Bellybeans, Appleton.]
Diaper Bag Essentials & Tips

(what your Babies R Us registry didn't tell you about)
Bendy Straws
Ever go out to eat with your kids? There is what I call "the kids drink problem." When you hand your tot a child's cup with a straw that clears his forehead when he's sitting in his booster, here's what's going to happen: He will tip the cup toward him in an effort to lower the straw to his level resulting in liquid spilling out of the side of the cup down his shirt and into his lap. How do I know this? I have witnessed it more times than I have watched the movie Cars. I have two young boys, so yeah, that's a lot of KaChows.
Here are two solutions to this problem 1) Instruct your child to take the cup off the table and lower it in his lap while keeping the cup level and reaching the straw to his mouth. This solution will leave you yelling, "Take it off the table!" at your young child as he will forget this instruction and spill on himself anyway. Or 2) Buy a pack of bendy straws, cut about an inch off the bottom of them and when the server brings your tot his drink, pluck the restaurant straw out and pop the bendy one in. Behold the magic of the bendy straw as your tot pulls his drink toward him and is able to take a sip while leaving the cup right on the level table!
Post-Its
This little trick is for sensitive little ears that are terrified of automatic flush public toilets. Here's what you do, go into the stall first, place the Post-it over the automatic flush sensor (that little red light on the box behind the toilet) and then usher your little tot into the stall, let her do her business in peace and after she's all wiped up and pants pulled up, usher her out of the stall and remove the post it. Voila! Now the toilet will flush and she'll have plenty of time to cover her ears. The only downside is that you can't cover all the sensors in the bathroom and you run the risk of the person next to you flushing while your little girl desperately tries to hold herself on the pot and cover her ears at the same time. Or can you? If you happen to be in the Darboy Target relieving yourself and you see a Post-it on the flush sensor, just leave it. I'll take care of it when junior is done.
A place to stash tokens
I keep an old coin purse in the inside pocket of my diaper bag. Inside is about a dozen Bay Beach Amusement Park tickets (which don't expire and can be used the following summer if you don't make it back this year), a handful of Funset Boulevard tokens, Chuck E Cheese tokens, a Badger Sports Park reloadable card, Stevi B's tokens and Culver's Scoopie tickets. We go to each of these places about once or twice a year and sometimes when you leave you have leftover tokens. Or you get home and empty your pockets and it's like one of those magician's scarf tricks with a never ending blue prize ticket string. Then you remember when your kid was whining about not having enough for the Whoopee cushion prize, disaster averted! I take all those things and stuff them into to my diaper bag coin purse. Why? Because I'm cheap and the next time we wind up at one of these places, I can break out my old tokens and the kids shove them in machines faster than I can say, "How much for the wristband? Seriously? Here go play Whac-A-Mole."
I also am very forgetful and there is nothing I hate more than driving to Green Bay and parking at Bay Beach only to see a mile long ticket line and remember that I have a whole boat load of tickets leftover from our last visit, but alas, they are at home. So now I can't forget, because it is always in the diaper bag!
Coupons
This is just like the tokens, keep them in the bag so you have them when you need them! I am not suggesting you become a crazy coupon lady that only pays 17? for 2 carts full of groceries. Well, actually if you can figure that out, can you please fill me in so I can get in on that kind of extreme couponing? Seriously though, sometimes there are really great deals in those mailers that come once a month. Plus, if you're like me, retail stores are always sending you coupons in the mail. Buy yourself one of those plastic file folders and stash your coupons in there. You can also stash all of those reward cards stores give out in there or attach a key ring to it for them. That way when you find yourself with an armful of end of season steals, you can pull out your 20% off coupon and get an even better deal! We also often find ourselves stopping for lunch or dinner unexpectedly and I hate knowing we are eating out at a place that I know I have a coupon for, except it is at home!
Here is a list of other random things I always keep in the diaper bag
Diapers and wipes (well duh!) and don't think you can nix the wipes when your kiddos are done in diapers, wipes can be used to clean just about everything, from sticky faces and hands to spills in the car.
Extra pair of clothes
Bibs
Socks for each of my kids (I do this in the summer months because if we make an unplanned stop at a fast food playland, they are probably wearing sandals without socks and the rule is you need socks to play)
Plastic knives (for cutting up hot dogs and grapes in a pinch)
A container of crayons and a little notebook (one of those plastic travel wipes containers works great for this!)
Stale cheerios (they may balk at them when you try to give them it for breakfast for the 17th day in a row, but next time they are starving for a snack, they will gobble them up!)
Nail clippers
Band aids
Toothpicks/flossers
Plastic Ziploc bags (for wet or soiled clothes or if you are somewhere with no garbage, for wet or soiled diapers)
A small Tupperware container (those mini ones you can use for salad dressing) This is a new one for me now that my oldest is 6 and has started losing teeth!
---
What else can we add to the list? (I may need a bigger bag!) What do you keep in your diaper bag?
---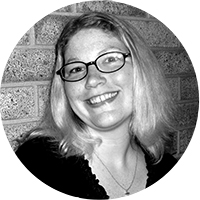 Kelly Arnell is a stay at home mom from Kaukauna. She has a husband who is completely in charge of bath time, 3 little monsters to cherish and love and to drive her insane! When she is not yelling ather kids to stop licking things, changing poopy diapers or trying to all around keep her kids fed, clothed and alive, she can be found at her at her blog, Why did we have to have all these kids anyway? Visit her on Facebook and Twitter!
Save