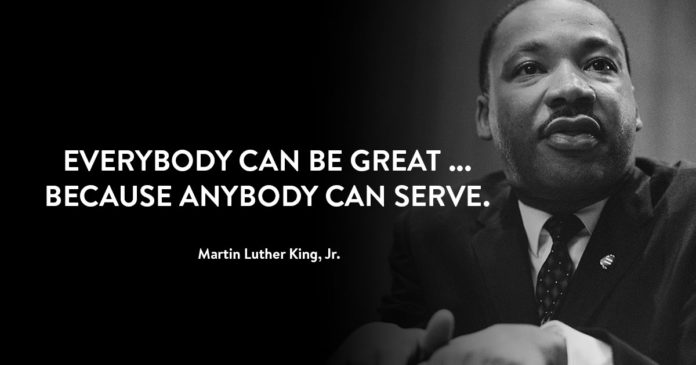 Martin Luther King, Jr. Day (MLK) is Monday, January 21, 2019 and Appleton is celebrating with many activities to learn and serve for families in our community in his honor. Its great to have off of work and school but it's also a wonderful opportunity to have conversations with our kids about civil rights, giving back and serving other in the tradition of MLK.
Appleton Area School District is hosting the first annual MLK Community Day of Service to recognize and honor the life and legacy of Dr. Martin Luther King, Jr.
MLK Community Day of Service
East High School, 2121 Emmers Drive, Appleton

Monday, January 21, 2019
10 am to 3:30 pm
FREE & open to the public
Community March
Soul Food Sampling
Cultural Exhibits
Dancers
Music Performances
Volunteer Fair with 40 organizations
Ride the Give Back Bus to local nonprofits to volunteer
Onsite volunteer opportunities
Art Displays
10 am – Community March begins at the East High School main entrance off Emmers Street and will end in the auditorium.
10:20 – 10:30 am – Student dancers, steppers, and singers perform in the auditorium.
10:30 – 11:15 am – Kick off event in the auditorium. Learn more about Dr. King through videos and presentations, including student projects that were submitted for the MLK essay contest.
11:15 – 12:15 pm – Visit community agencies and volunteer organizations in the East Commons who offer opportunities to volunteer.
11:15 – 12:15 pm – Sample soul food from Cozzy Corner.
12:30 – 3:30 pm – Board our Volunteer Busses! Travel around Appleton to engage in hands-on volunteering.
For those that prefer to stay onsite, we will also have service projects and activities available at Appleton East.
All Day – The History Museum at the Castle's "A Stone of Hope: Black Experiences in the Fox Cities," an exhibit about local Black history from the 1700s to the present, will be onsite for learning and reflection.
Why Keep Dreaming? A Time for Action with Dr. Eddie Moore, Jr.
Lawrence University's Dr. Martin Luther King, Jr. 28th MLK Celebration
Lawrence Memorial Chapel, 510 E College Ave, Appleton
Monday, January 21, 2019
6:30 – 7:45 pm
FREE & open to the public