The T-Rex is one of the most famous dinosaurs, but did you know that he is actually the last in the line of a long family tree? Milwaukee Public Museum (MPM) is hosting a special exhibition: "Tyrannosaurs – Meet The Family." My family has been excited to go to a dinosaur exhibit, and this one did NOT disappoint! This special exhibit is only here for a limited time, now through May 18, 2022!
Our family got ready for a road trip down to Milwaukee with some dinosaur coloring books and a portable DVD player (yes, we're old school) that played "A Night At The Museum" — a classic! Milwaukee was an easy day trip with a quick hour and a half drive from the Fox Valley!
Upon arrival at MPM, we headed upstairs to the third floor to start with the dinosaurs and work our way back down to the planetarium, cafe, and, of course, the gift shop.
As you enter the Tyrannosaurs exhibit, you're greeted with an immersive video projection tunnel where you feel like you're walking along some small, friendly tyrannosaurs – until you realize that they're actually running away from something much larger!
Turn the corner, and you'll be amazed by the most giant, life-sized T-Rex skeletons, hands-on activities, interactive displays, and more! We were amazed and entertained as we learned more about the variety of this dinosaur family.
This engaging exhibit showcases scientists' discoveries in the last couple of decades. Now, we can travel back 100 million years to explore all of the Tyrannosaurs and discover how they came in many shapes and sizes, living in different continents and time periods!
What you can learn about Tyrannosaurs:
What is a tyrannosaur: Learn about the key features that define a tyrannosaur and make them different from other dinosaur groups.
Meet the family: Tyrannosaurs came in a range of sizes and shapes, some with feathers, some without and some much more threatening than others.
Explore the family: Tyrannosaurs lived in different habitats, at different times and evolved to fill different ecological niches.
T. rex—the ultimate: What makes T. rex one of the most formidable predators that ever lived? The focal piece of this section is the cast of "Scotty," one of the largest and most complete T. rex specimens in the world.
Tyrannosaurs, the legacy: Despite their final demise during one of Earth's biggest mass extinction events, tyrannosaurs live on — in our imagination, our culture and in their bird cousins in our backyard.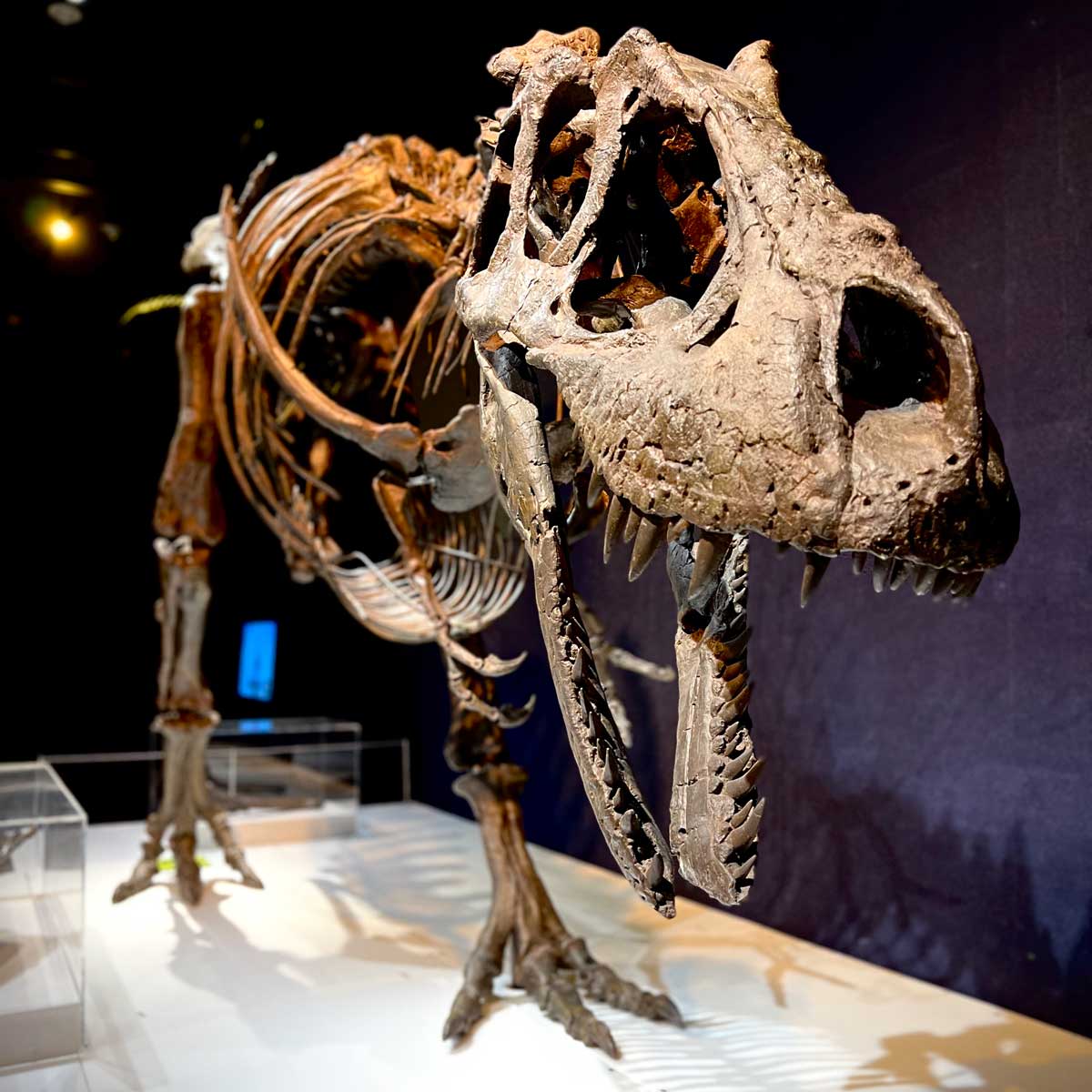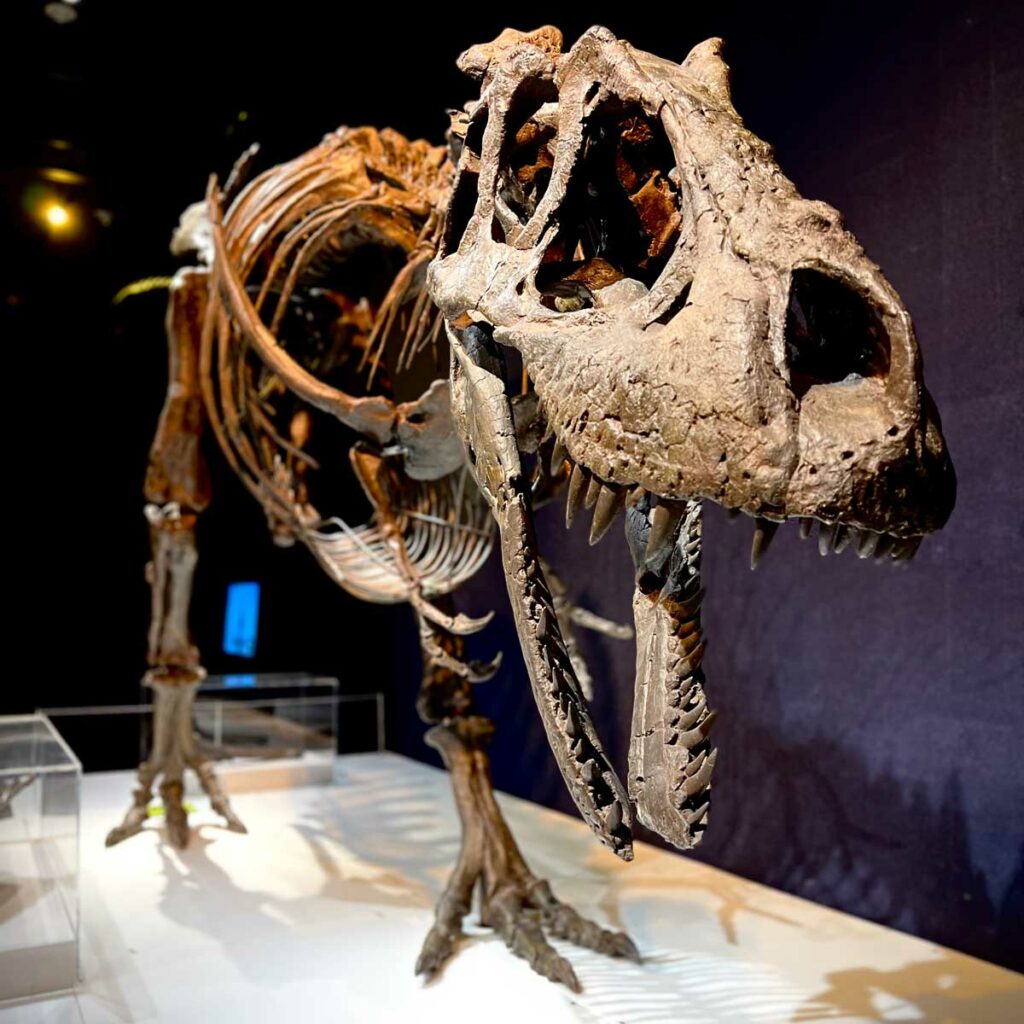 Plan your visit before this exhibit goes extinct!
800 West Wells Street, Milwaukee
(414) 278-2728
Visit mpm.edu for more information and museum updates.
This special exhibit runs from February 18 to May 18, 2022. The museum is open Wednesday through Monday, from 10 am until 5 pm. They are closed on Tuesdays.
Museum Admission
This Special Exhibit is included with admission!
Adult 18-64: $24
Teen 14-17: $24
Senior 65+: $20
Youth 4-13: $18
Military/College: $20
Members and children 3 and younger are always free
Admission includes one Planetarium program. During the special exhbit, DINO SOARS! shows at 10:15 am and 2 pm.
Tips Before You Go
Ordering your tickets online is strongly recommended
If you go on Sunday, meters are free! If visiting on another day, we recommend using the James Lovell Street parking ramp which has its own museum entrance. Parking in the ramp cost us $10 for our visit.
Need a quiet space while you're there? You'll find a private space for nursing mothers and families with small children on the first floor
If your family has a museum membership with an ASTC Passport Program participant (Building for Kids, National Railroad Museum, Neville Museum, and Barlow Planetarium are local participants where you might have a memberhsip), admission is covered for 2 adults and children or grandchildren from the same household.
What Dinosaur themed activities can we do on the way?
Play this YouTube Video on the way to enjoy MPM's "Dino or Di-No" game. There are three short episodes! Will your kids beat you as they guess which creatures are real?
The Milwaukee Public Museum has created this excellent worksheet for your kid to build their own dinosaur name and habitat! (Best for older kids)
Are there any special days during Spring Break?
Dino Days are scheduled for Monday, March 21, and Wednesday, March 23 – Friday, April 1 from 10:30 am until 2:30 pm. Note they are closed on Tuesdays.
There are three fun, drop-in activities to choose from on these days:
Meet the Family – explore how paleontologists piece together the behaviors and lives of dinosaur families
Paleontologist Toolkit – Learn about the variety of tools that are used to unearth fossils
Dino Crowns – Decorate your own dino crown to wear and take home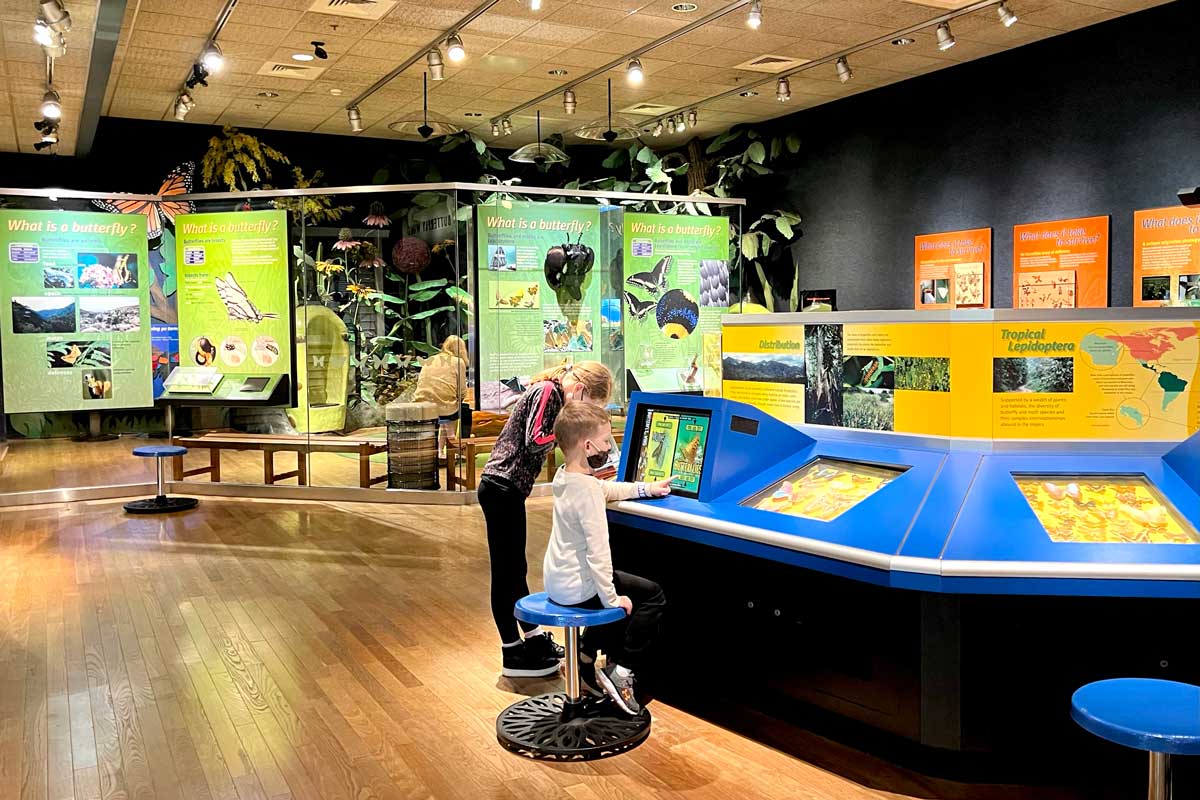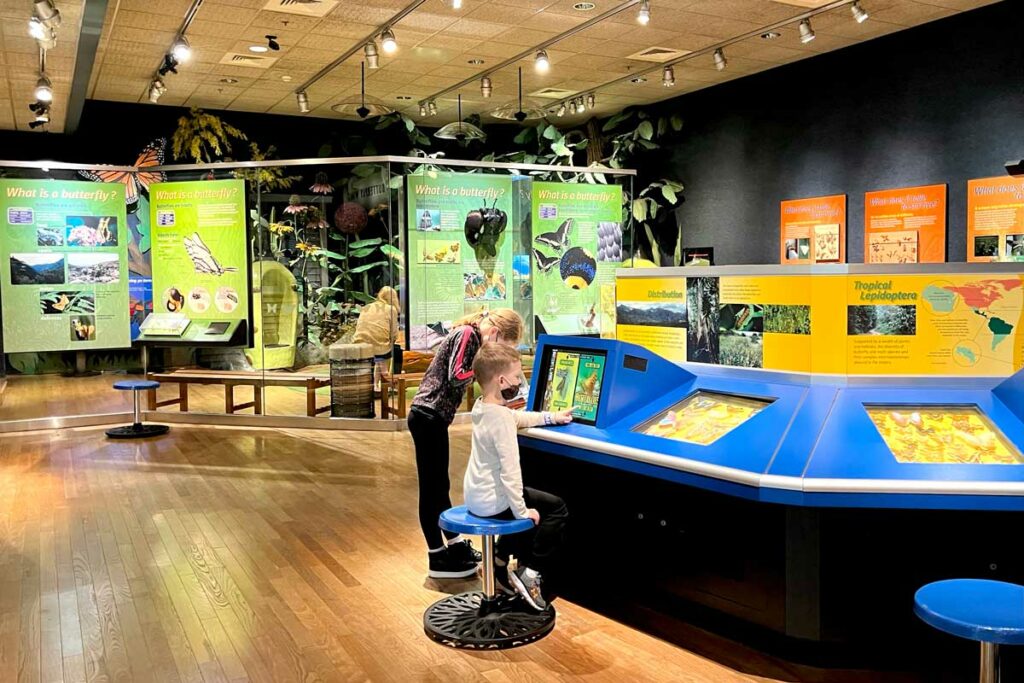 What other exhibits are at the museum?
MPM has three and a half floors, filled with 150,000 square feet of space! You can visit Africa, Asia, Europe, the Arctic, South and Middle America, the Pacific Islands, and a Costa Rican Rainforest!
There are also a few favorite permanent exhibits where you can walk through the turn-of-the-century "Streets of Old Milwaukee," a "European Village," as well as ancient Mediterranean civilizations!
Do you have a bug lover in the family? The Puelicher Butterfly Wing is a super-sized indoor butterfly habitat, and "Bugs Alive" is home to live bugs from around the world!
Where can we get a bite to eat?
Any day is easier when everyone's tummies are full! Luckily, there are a couple of options right inside the museum.
You can grab a quick coffee, baked goods, or other drinks at their first-floor coffee kiosk. If you're looking for lunch, we'd drop into the Museum Café where everyone can find an easy deli-style meal.
(You may want to call ahead if you're planning on eating at the museum since it was closed during our mid-week visit.)
There are also several restaurants within walking distance of the museum.