Thanksgiving and Christmas are my most favorite times of the year. I love spending time with family and enjoying yummy food!
Having the opportunity to support the local community and meet the men and women behind these foods is an experience like no other. Not only are you able to get the freshest foods possible, but you're able to build relationships with those behind the food.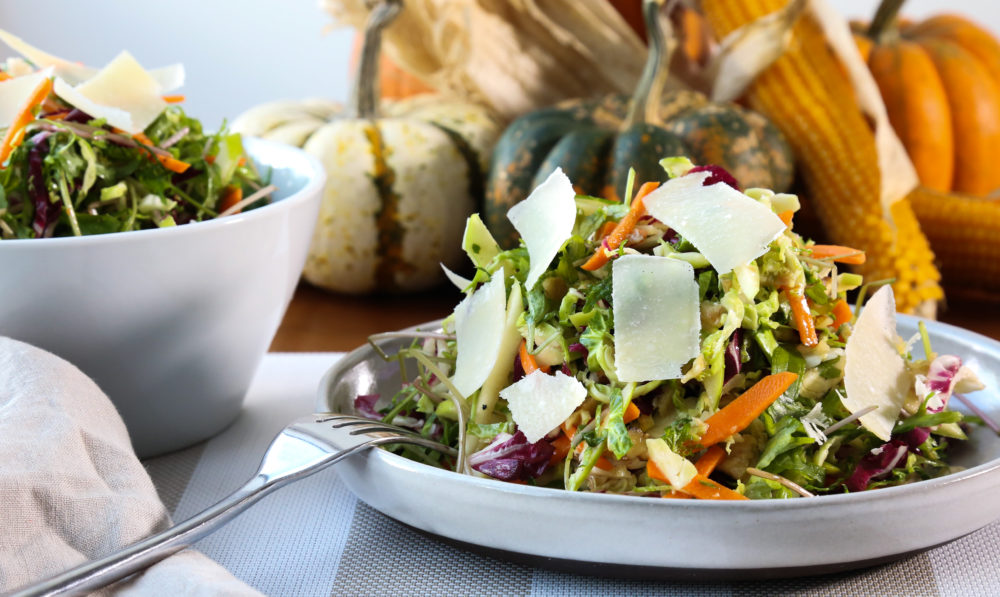 As the brisk weather transitions, the growing season ends and, there tend to be fewer markets to attend and even fewer produce options that remain in season. The good news is that I've recently learned that our local grocery stores are starting to source more local produce year-round, particularly as the demand for "local" has increased. This means that I can continue to give my family the freshest produce.
Trying to get my family (especially the kids) to eat their greens can be difficult, and it only gets harder when we get into fall and winter because, let's be serious, who would want a salad with all of the different sweet options that these seasons bring (I'm looking at you, pumpkin pie).
On our recent trip to Pick n' Save, we picked up BrightFarms salad greens and herbs while walking through the produce section. BrightFarms builds and operates greenhouse farms near supermarkets which cuts time, distance and environmental impacts typically associated with conventional salad greens traveling from the West Coast.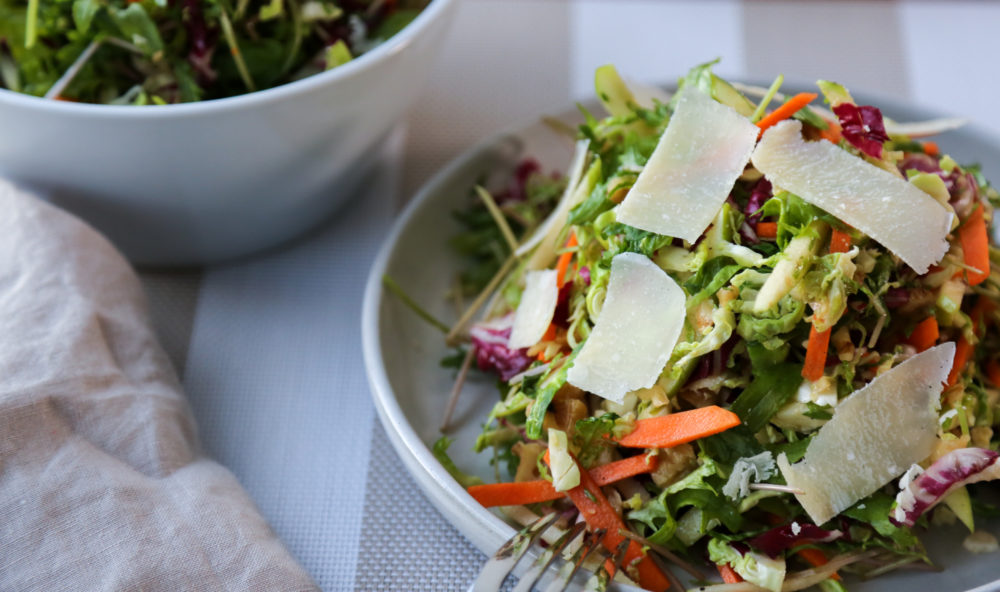 This greenhouse is in neighboring Rochelle, Illinois. BrightFarms delivers to our Pick 'n Save within 24 hours of harvest, which means a fresher and more nutritious product that's available year-round – take that cold weather! I also feel good about supporting our Midwest economy.
When we buy greens, we typically just go with the standard romaine but for this recipe we wanted to try something different so we went with baby kale! Since fall offers so many delicious fruits and veggies we wanted to find a way to incorporate them as well. For this Thanksgiving Kale Salad, we used some of our favorite veggies, and even made a Maple Vinaigrette to really taste the fall flavor – so yummy!! It's quite easy to make and you'll taste everything that's great about fall! Not only did my husband LOVE it, but even the kids came back for seconds!!
Thanksgiving Kale Salad Recipe
Ingredients
Salad
1 clamshell of local BrightFarms Baby Kale
1 small head of Radicchio, halved and thinly sliced
10 brussel sprouts, halved and thinly sliced
1 green apple, julienned (cut into sticks)
1 carrot, julienned (cut into sticks)
1 cup, walnuts, toasted and chopped
parmesan cheese, shaved (to top)
Maple Vinaigrette
1 Tablespoon, dijon mustard
1/3 cup, sherry vinegar
1 cup, extra virgin olive oil
2 Tablespoons, maple syrup
salt & pepper
Directions
Vinaigrette
In a small bowl, add the mustard, vinegar and maple syrup. Whisk together. While whisking, slowly drizzle in the olive oil until the oil and vinegar emulsify (combine and thicken). Season with salt and pepper. Set aside.
Salad
In a large bowl, add a clamshell of local BrightFarms Baby Kale, the sliced brussel sprouts and radicchio, the julienned carrots, apple and the chopped walnuts. Toss with your hands to combine well.
Drizzle in the vinaigrette, a little bit at a time, tossing to coat the entire salad. Add a spoonful or two at a time until the salad is well dressed. Make sure to not over dress the salad or you'll risk a soggy salad (and no one wants that)!
Plate the salad nice and high and top with shaved parmesan cheese. Enjoy!
---
Find a Pick N' Save
2400 W Wisconsin Ave, Appleton
511 Calumet St, Appleton
2700 N. Ballard Road, Appleton
N135 Stoney Brook Rd, Appleton
828 Fox Point Plaza, Neenah
1530 S Commercial Street, Neenah
1940 S Koeller St, Oshkosh
1291 Lombardi Access Rd, Green Bay
---
About BrightFarms
BrightFarms grows local produce, nationwide. BrightFarms finances, builds and operates local greenhouse farms in partnership with supermarkets, cities, capital sources, and vendors, enabling it to quickly and efficiently eliminate time, distance, and costs from the food supply chain. BrightFarms' growing methods, a model for the future of scalable, sustainable, local farming, uses far less energy, land and water than conventional agriculture. Fast Company recognizes BrightFarms as "One of the World's 50 Most Innovative Companies" and one of the "Top 10 Most Innovative Companies in Food" in the world. Most recently, BrightFarms was listed as number 235 on Inc. Magazine's list of the fastest growing private companies in America. www.brightfarms.com.