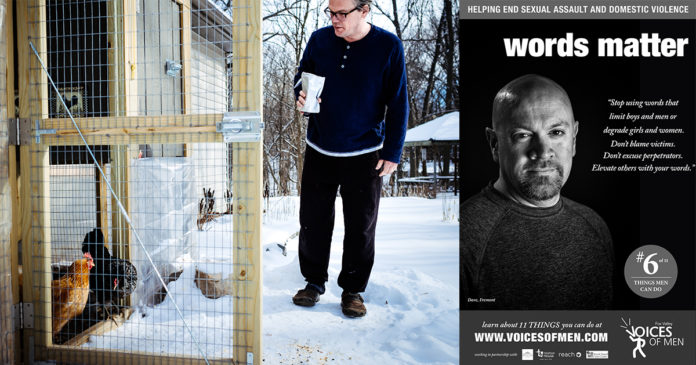 With holiday decorations still sprinkled throughout their home, Aretha Franklin belting out her soul, and cozy vintage furniture in every corner, I'm sitting with Shannon Wyman Kenevan, a local husband, father, and activist. There are hens in the backyard, and the only name I can remember is a speckled one fittingly named Bob Ross; made me chuckle. Their living room smells of coffee and hospitality. It is everything I'd expect from this family after years of casual acquaintance.
I first met Shannon many years ago when I worked downtown Appleton as a cafe owner. His outgoing and accepting personality made it easy to feel like quick friends. Since then, his activism and passion have been inspiring. Whether it's educating on local and national politics, voicing his views about racial and social injustices, or dedicating himself to helping his kids fight for legalizing backyard chickens in Appleton, he always seems to have something to say and a passion project underway.
After dedicating part of his life to the previous Harmony Cafe and Goodwill Industries, Shannon now works for Voices of Men, a nonprofit creating a community where boys learn Healthy Manhood and men treat all people with dignity.
Shannon explains Voices of Men was born from female executive directors of four local agencies, Harbor House, The Sexual Assault Crisis Center, Christine Anne Domestic Abuse Shelter and Reach Counseling, coming together and acting on the absence of men in the issues commonly seen as "women's issues" that most often involve the actions of men, such as sexual violence and domestic violence. They invited 50 men in the community to an informative meeting. Those men became committed to helping this cause and using their voices to bring change. Voices of Men has grown consistently, and a full-time staff member was needed to continue operation. Shannon now fills that position.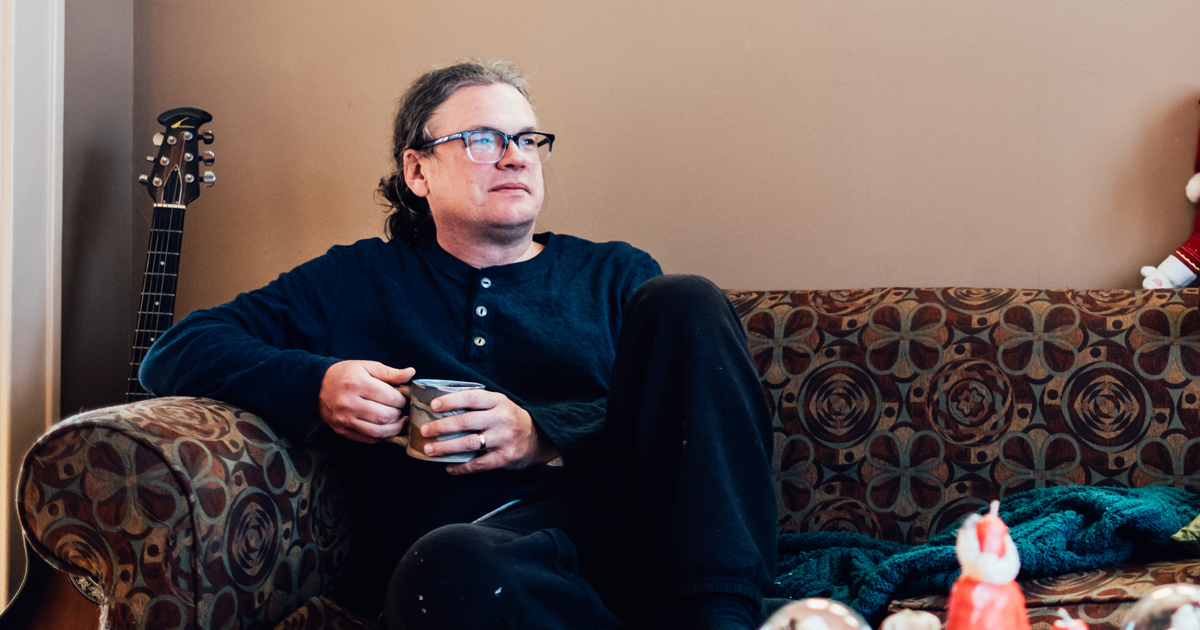 V: As parents, we know domestic and sexual violence is important to talk to our children about, but it's a weighty topic. What are some ways we can start the conversation with our kids and make sure we are all doing our part
to end this type of violence from an early age?
S: It's really two things: one is to get men and young boys understanding that these are our issues. It's not something we can ignore. That's part of the problem- it's mainly men who are causing these issues, and we're not doing anything to help.
We need to engage men and boys in these issues. The other thing we need to do is to try to get upstream on the issue and change what we call, "man box culture". It is something we can do right away, even before birth, we can start to blow up the man box culture. The easiest way to describe man box culture is to talk about an exercise I have done with hundreds of groups. We ask groups of people of all ages, "When you hear a dad or football coach, for example, say, 'act like a man' or 'man up' what do you think of?" We give people a few minutes to think about their answers, and they are always the same: Don't cry. Don't have any emotions other than anger. Fight. Be tough. Don't wear pink. Don't be a wimp. Drink lots of beer. Drive a truck. Dominate. Be in charge. Don't have long hair. Be a ladies' man.
The second part of the exercise asking, "What does the phrase 'healthy manhood' bring to mind?" Completely different list: Able to cry and show emotions. Love. Don't be afraid to fail. You can be into music and theatre – not just sports. You don't treat women like property. You can drive a minivan. You can care about others. You're honorable, caring, selfless, and loving. You can be a stay at home dad. Listen to women. Be gentle. You can positively show anger. You're humble. You can help those in need.
It's the same answers over and over. Why is acting like a man different than healthy manhood? Why are these lists not the same? When we tell our boys to "man up" or "act like a man", we're asking them to put on an act of toxic masculinity. The healthy manhood list kind of sounds like how we raise our girls, OR, maybe it sounds like just being a
good person.
All of the things that come up in these lists fall into three categories: The first category that comes up every time is to show no emotions aside from anger. The second is along the lines of being tough and dominating not asking for help. Every list has various forms of that. And the third category that comes up about half the time is anything that devalues women: Don't wear pink. Don't be a sissy. Don't throw like a girl. It's saying that women and girls are "less than."
That's the Man Box.
This is core to our upstream thing- if we can get people to raise our boys for healthy manhood versus this toxic masculinity, we're going to change domestic violence and sexual assault. You can see that direct correspondence between domestic violence and anger. If boys can have a full range of emotions and not just anger as their only outlet we can positively impact this issue. And of course, this emotional dampening doesn't cause every boy to become a domestic abuser, but it helps create a culture where domestic abusers can exist.
And when I say it starts early, it does start pre-birth. Another exercise we do is to talk about groups about a friend they might have who's pregnant and having a baby shower, and you want to buy a onesie for their baby, and you hear it's a boy…what color onesie will it be and what will be on it? Typically they will say blue, and it will have trucks and balls and superheroes, stuff like that.
Then I'll ask if it's a girl, what color will it be and what will be on it? And they'll all say pink, and it will have daisies, flowers, butterflies, princesses, and all of that. So, looking back at the man box; before this boy can even start thinking, he's already in a box.
Toxic masculinity is a root cause of domestic violence, and it's a root cause for lots of other issues as well. When we hear about a mass shooter in the news, 99% of the time it's a guy. Then we ask the questions: "Why did this happen?" "What led to this?" We come up with answers like, "Well, he was bullied, or mental health, or access to guns, he had a breakup, etc." But, girls face bullies, girls have mental health issues – some say even more than boys and men – girls get dumped, girls have access to guns just as much as boys, so why are they not the ones doing mass shootings? Why is it always a boy or man? Out of the last 1,000 mass shootings in this country, 998 of the shooters were dudes. Look at those numbers and tell me where the issue is. People can be blind to it.
V: Do you have any resources you would recommend?
S: On our website, we've got twelve posters with pages that link to each one. Each page has a few 2-4 minute videos that help teach the message of the poster, and you can watch them all in about two hours. And you'll be blown away. There are such good videos; they teach each of the posters in great, different ways. In two hours, one would get a great foundational education. Parents can watch them alone or with their kids. Some are more at a high school level intellectually, but a lot are great for starting around third and
fourth graders.
V: How do you think your childhood shaped the person you are today?
S: I probably had one foot in a man-box that I was raised in – mostly by friends and society – but I also had a dad and other adult males that were outside of that man box as good role models. I had a good number of men in my life that practiced healthy manhood.
V: What's one piece of advice you would give to a parent raising children in today's world?
S: Blow up all that gender stuff. Particularly for our boys. How we raise our boys is problematic and leads to yucky stuff happening. We do different things with our girls that can be harmful, and that's worth exploring also to avoid putting our girls in a different kind of box. It comes out a lot of times in things like pushing our girls to be only in nurturing fields and not science and technology, or math and engineering. People are starting to blow that up in certain ways, and you're hearing more about women breaking into STEM fields.
When it comes to these gender boxes though, the boy's box is a much tighter box. Girls can wear blue jeans or dresses, and no one's going to freak out about it. But, can boys wear blue jeans and dresses…?
V: What do you feel has been the biggest success in your parenting journey, and what do you think contributed to that success?
S: I'm very fortunate to have two awesome daughters. I don't know that I had a whole lot to do with that, I think we just got lucky. My wife is an awesome mother, and we do what we can do. At the same time, the girls are completely different people. I can't chalk it all up to our impact because if it were only our impact, they would be identical. One's this, and one's that. They are their own people. I think being a pretty good dad helps, but it's also letting them be who they are, and supporting them on their journey wherever they are going. We're just there to kind of guide them along and let them be who
they are supposed to be.
**Some excerpts from Voices of Men zine:
Educate yourself about the Man Box and Healthy Manhood by watching videos, reading the blog and posters, and take the White Ribbon Pledge at voicesofmen.com
Donate money, supplies, or time to your local domestic violence agencies.
Attend annual fundraisers for your local sexual assault and domestic violence agencies.
Never use, "throwing like a girl", "act like a girl", or "that's so gay" as insults.
Let a boy cry- support him, tell him it's okay to cry
Encourage boys to have a full range of emotions, be willing to ask for help, be vulnerable, and be gentle and nurturing.
Interrupt sexist comments and jokes
Don't victim blame
Believe women's experiences
Validate women's emotions and avoid saying things like, "she's too emotional".
In age-appropriate ways, talk to children about sexual assault, domestic violence, and sexism
Teach your children about consent – no means no and only a yes means yes.
Drop these words from usage
man up
grow a pair
that's so gay
bros before hoes
don't be a wuss
quit crying
lost your man card
 How can you get involved?
Learn more about our Inspiring Parents Series by Veronika Richardson here.