Inspirations Dance and Fitness is ready to welcome your children into the studio for playful classes for toddlers, supportive technique building for older kids, and a different creative camp option each week July – August. If you've been searching for a spot for your kids to focus on playful learning with imagination, and while growing their love for dance, this is it! 
You'll find Inspirations Dance and Fitness in Downtown Appleton with plenty of on-site parking. They've been offering dance classes focused on skills built on fun and whimsy for five years. Toddlers as little as two years old leave class with fancy new French words and ballet skills after having spent a class as a fairy princess. Older kids build on those skills and techniques in a dynamic environment that builds character, confidence, and self esteem.
Tricia started dancing at age 3 and twirled right through until age 23 at Platteville School of Dance, with a focus on ballet and pointe. She also has extensive experience in tap and jazz as well. Her teaching experience began at age 13 with assistant teaching and she moved into solo teaching and choreographing at age 17. She taught dance locally with Appleton and Kaukauna Parks and Recreation before realizing the dream of having her own studio in 2013. Inspirations Dance and Movement became Inspirations Dance and Fitness in 2015 when boutique fitness classes were added to the studio schedule.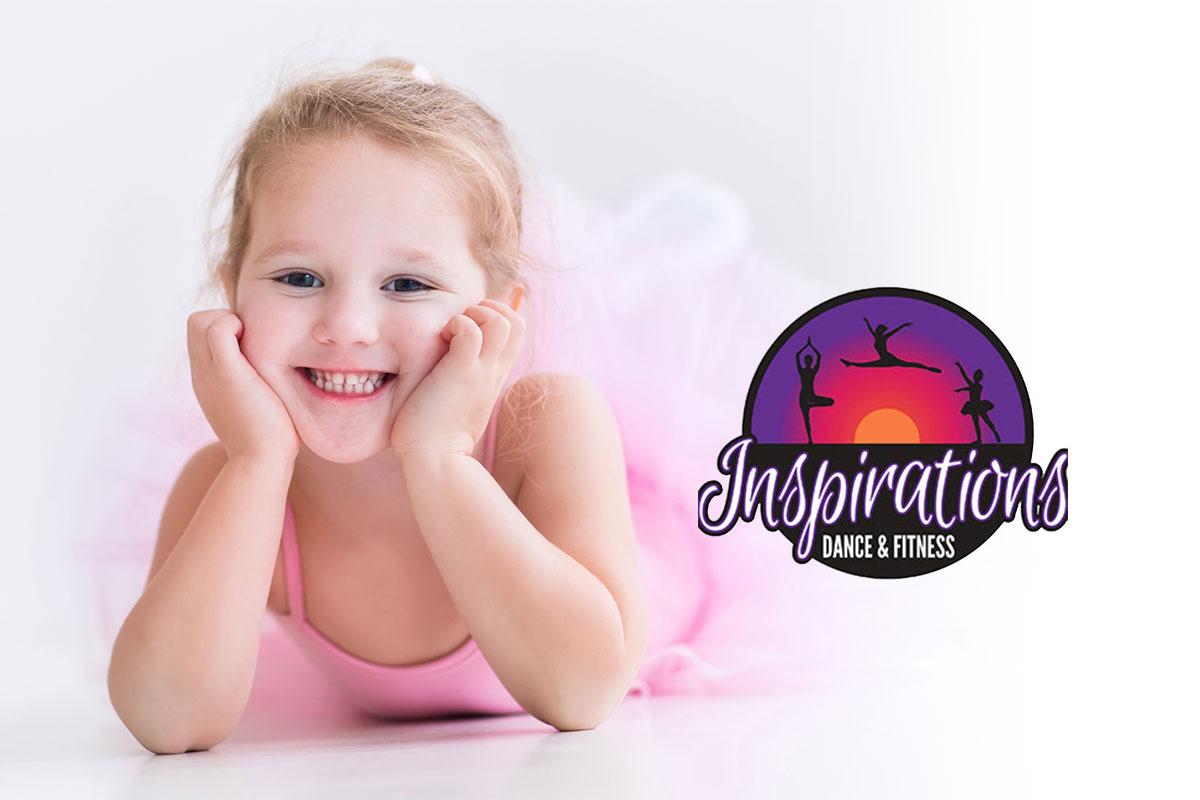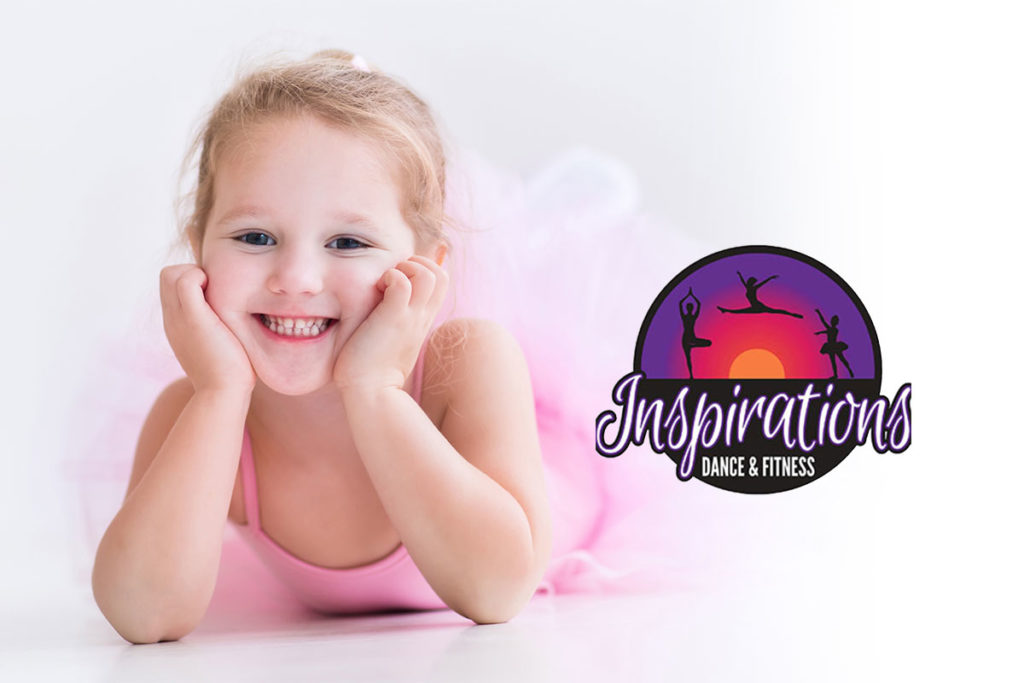 What are the benefits of dancing for kids?
According to the National Dance Education Organization there are many aspects of dance that reach beyond the physical benefits!
Emotional Maturity: Children are able to express their emotions and increase self-awareness through the creative movement offered by dance. The physical release of dance in classes simultaneously offers awareness and appreciation of oneself and others.
Social Awareness: Dance classes foster interaction and cooperation. The team work and individual responsibility required for dance encourage communication and understanding of themselves in relation to others.
Cognitive Development: Creative movement offers opportunities for problem solving and idea making. An understanding of group dynamics is fostered through class and team settings.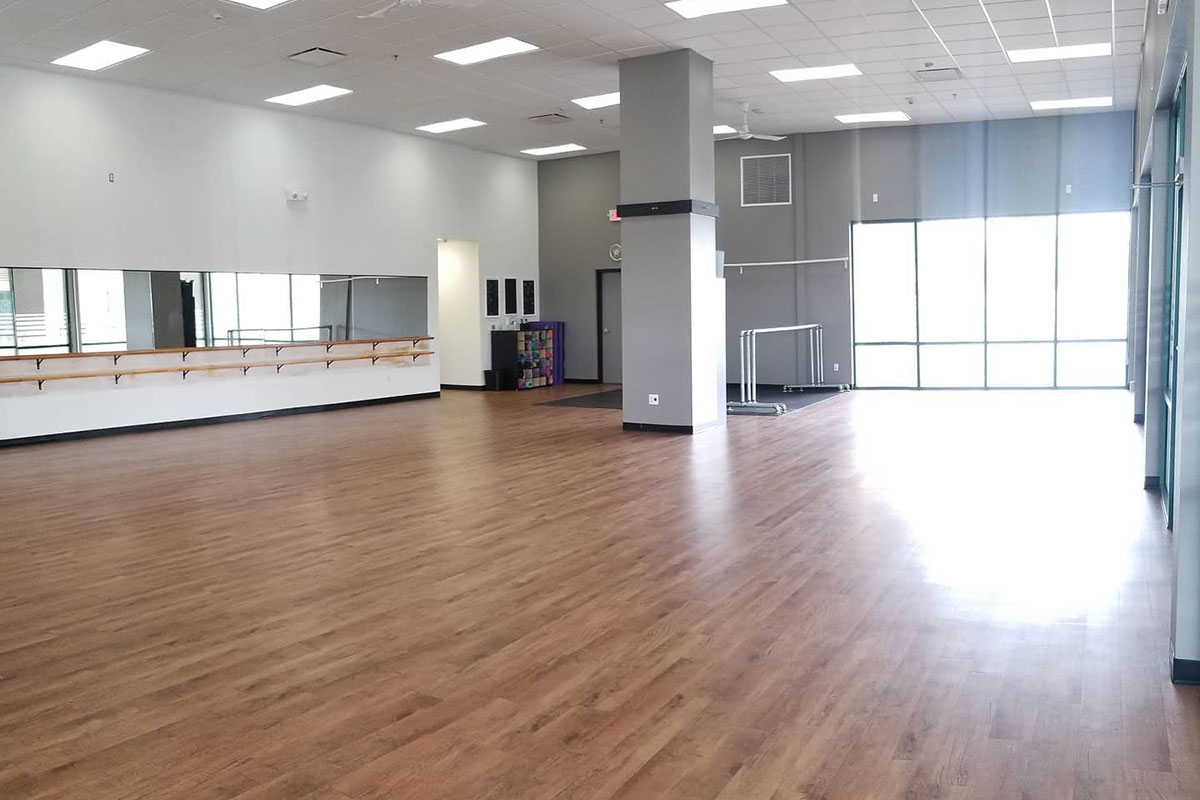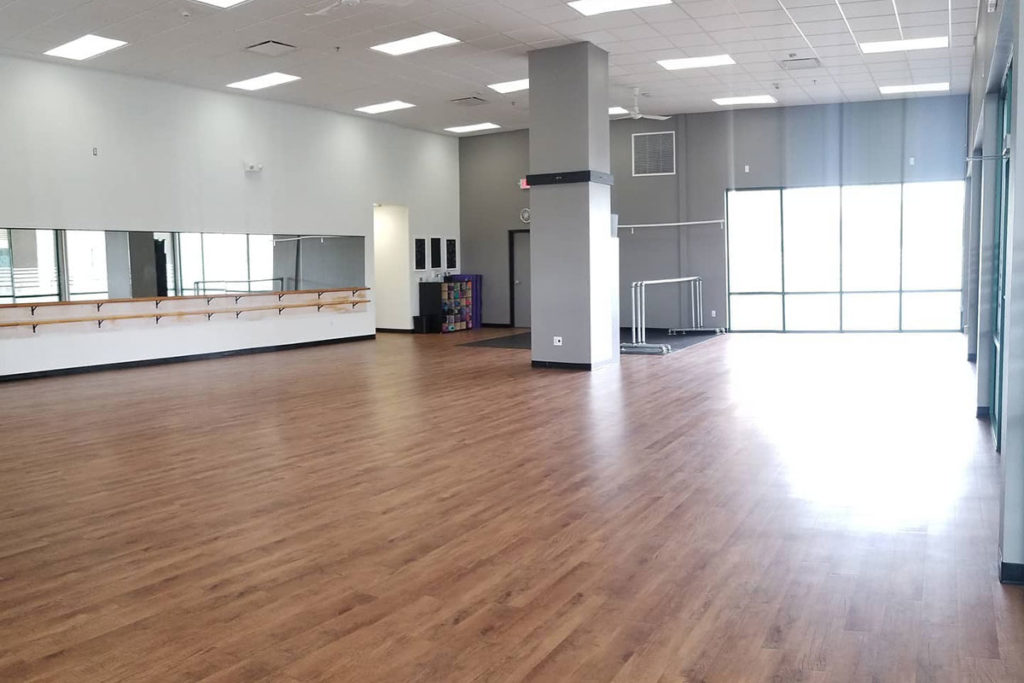 How will dance classes look different this summer at Inspirations Dance & Fitness?
Coronavirus and Safer at Home orders disrupted spring classes, but Inspirations Dance and Fitness in Appleton excited to be reopening after spending time reimagining what dance classes and camps for kids can look like this summer. With new health and safety measures in place, the studio is excited to be offering in-person dance classes and camps all summer long! Be sure to sign up quickly as class sizes are capped at nine students to ensure plenty of room for social distancing!
The importance of social experiences and interaction remains present during this time where physical distance is important to our community health. Inspirations Dance and Fitness is filling that need with a controlled and safe environment. The small size of classes and camps means that there is an abundance of space available for each dancer and the instructors work to with even the youngest dancers to remain within their designated space following a very controlled drop off procedure. You can feel confident that all recommended safety measures are followed and exceeded while supporting this small, local studio!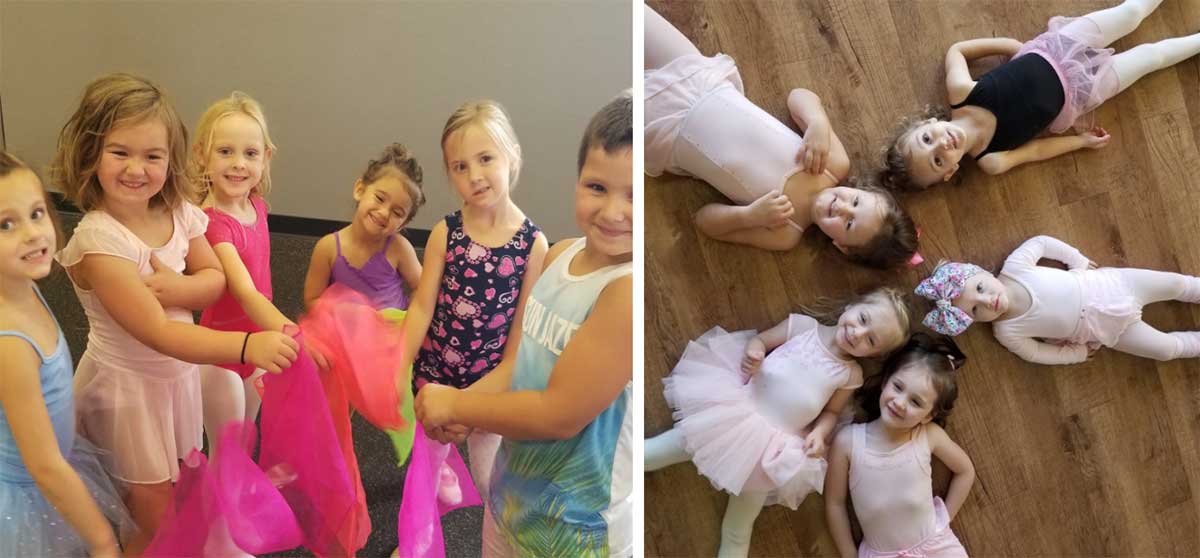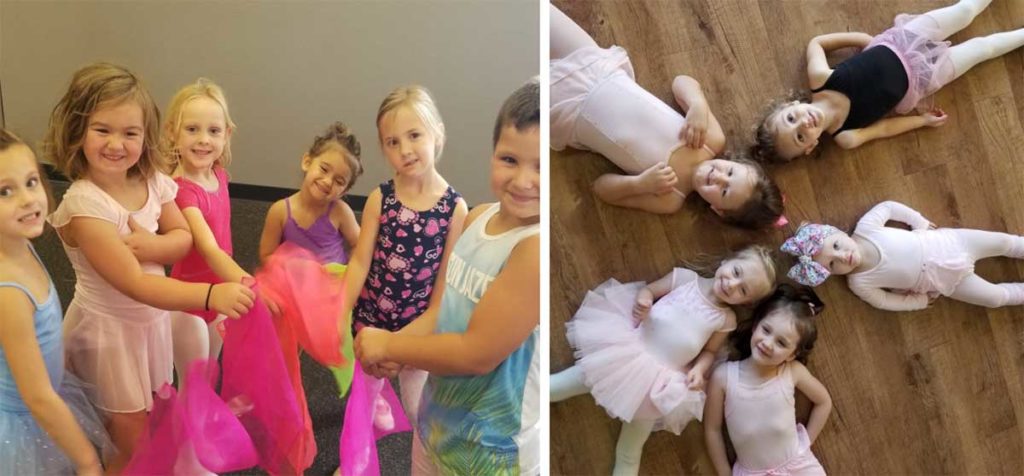 What classes and summer camps are offered for kids ages 2-9?
Mommy & Me
Princess Ballerinas
Fairytale Ballet
Teddy Bear Ballet
Beginning Ballet
Strength and Technique
Frozen Friends
Toy Round-Up Dance Party
Ballerina Bake Shoppe
Rock'n Troll Mini Dance Camp
Bow-Tastic Dance Party
Dance Descendants Dance Party!
Fairytale Tea Party Mini Dance Party!
Mighty Minis Dance Party
Sparkle Fairy Rainbow Unicorn Camp
Backyard Beach Party Mini Camp
Full Class Descriptions Below
Session 1: June 15 – July 10
Session 2: July 13 – August 7
Mommy and Me Ballet
Our brand new Mommy and Me class is for children ages 18-24 months and their caregivers. This class is designed to enhance gross motor coordination and listening skills through music, props, and dance.
Ages: 18-24 months
June: Tuesday 4:45 – 5:15pm, Thursday 10:15 – 10:45am
July: Tuesday 4:45 – 5:15pm
Teddy Bear Ballet for Ages 3-4
Does your son or daughter love to twirl and spin? Has your living room become a stage? Then let the magic of dance begin in her life. Join us for a fun event that introduces your child into the studio with the comfort of her favorite stuffed animal by her side.
Ages: 3-4 years
June: Tuesdays 10:45 – 11:15am
July: Monday 10:15 – 10:45am
Fairytale Ballet for Ages 3-4
Fairy Tale Ballet is designed for our little dancers who want to express their independence without the assistance of Mom or Dad. These little dancers will have fun learning Ballet to popular fairy tales and music through singing and ballet exercises.
Students will learn basic ballet technique in a fun and energetic environment using costumes, props, and games. At the end of each class, students will be read a treasured fairy tale (i.e.: Cinderella), dress up in tutus, beautiful costumes, and follow along with their teacher in a 'story dance' (a ballet reenactment with use of miming and choreography.)
Ages: 3-4 years
June: Mondays 4:00 – 4:30pm
July: Mondays 4:45 – 5:15pm
Princess Ballerinas
Princess Ballerinas provides an exciting dance ADVENTURE with theme-based lessons that change often. We use music and dance to bring the adventure to life for your little one. Plus, students will receive fun little bonuses like sticker charts and coloring pages to help them learn and celebrate their progress.
Ages: 2-4 years
June: Mondays 10:15 – 10:45am, Fridays 10:15 – 10:45am
July: Tuesdays 10:45 – 11:15am, Thursdays 10:15 – 10:45am
Beginning Ballet
This is a great program for the beginner to the advanced dancer and provides a nurturing and fun learning environment. The dancer learns ballet in a fun classroom setting through varied learning styles.
The learning experience elevates the ballet tradition embracing both the fun and discipline of dance. The dancer will learn dance terms and the building blocks of movement to progress onto more advanced levels of dance training.
Ages: 4-5 years
June: Mondays 4:45 – 5:15pm
July: Mondays 4:00 – 4:30pm
Strength and Technique
Our strength and strength class is a perfect addition to our dancers' training in ballet and/or jazz. We will split our focus between increasing flexibility and strengthen core muscles needed to support more advanced dance training. We get the opportunity to really dive into a deeper understanding of how the dancer's body works, why we need to work on certain muscle groups, and how we can achieve the results we want.
Ages: 6-9
June: Thursdays 10:45 – 11:15am
July: Thursdays 10:45 – 11:15am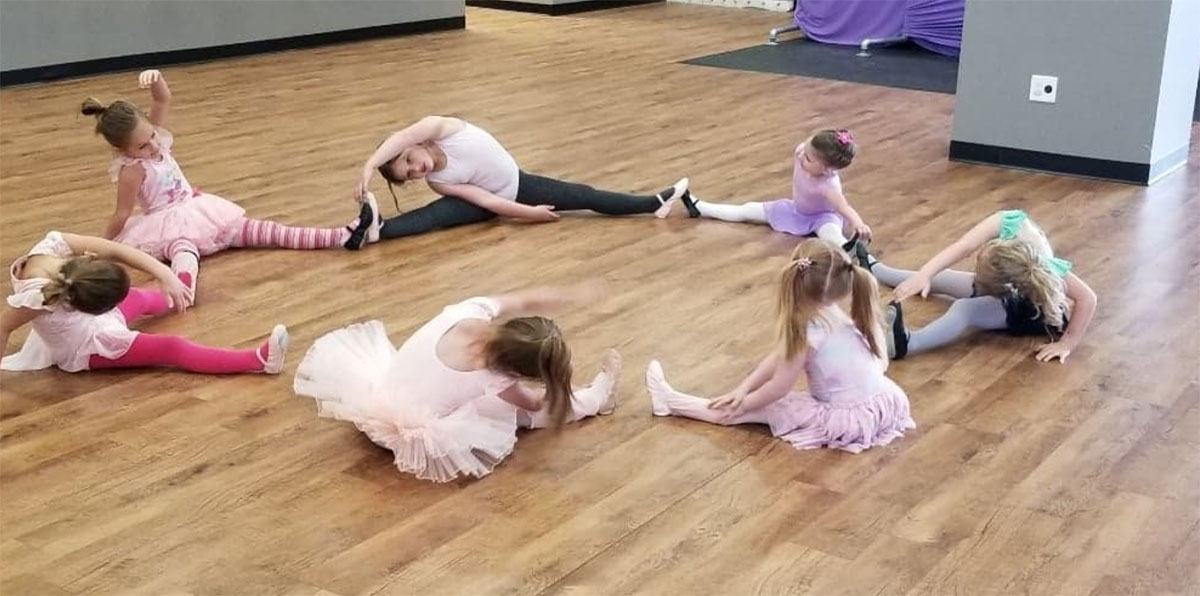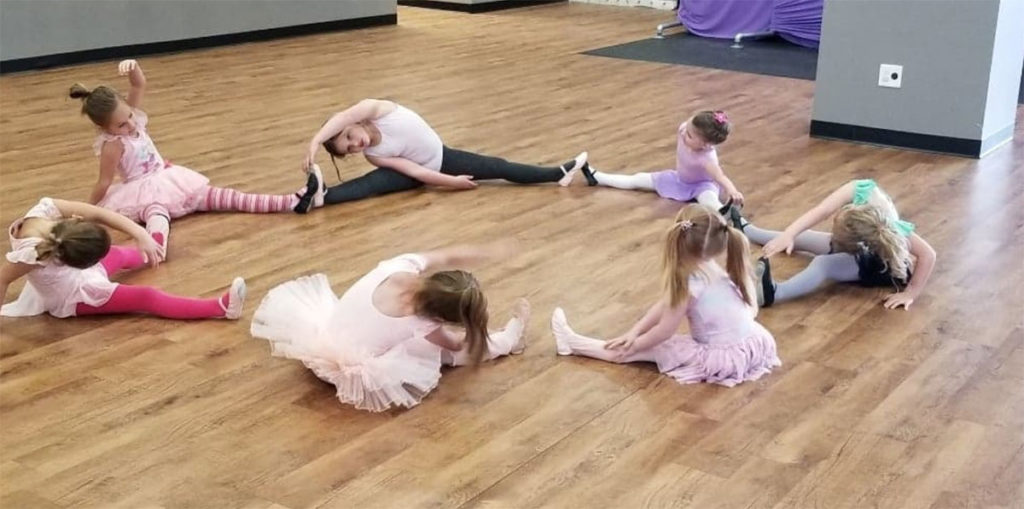 July & August Summer Camps – In Person
Frozen Friends Mini Dance Camp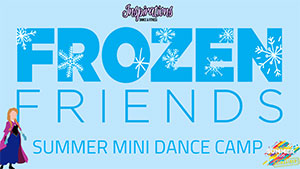 Keep your little moving this summer with a 3 Day Mini Dance Camp inspired by the hit movie Frozen! Participants will dance, participate in fun games and activities, and experience all the MAGIC of Frozen! If your little one loves Elsa, Anna, Olaf, and the crew, then this class is PERFECT for you! Twice the Fun…. invite a friend to join you on your Frozen Adventure!
Dates: July 11, 1-3 pm
Ages: 3-7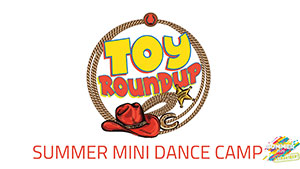 Saddle up and join in the fun of this rootin' tootin' dance party!
Dates: July 18, 1-3 pm
Ages: 3-7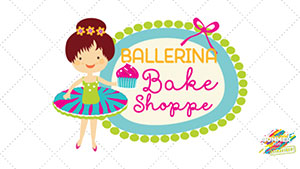 See what's cooking! Our little ballerinas will "stir-up" a good time with cookie and cupcake decorations, and "sweet" new ballet dances. Join your dancer for an interactive afternoon of sweet treats, dancing, and making memories!
Dates: July 12, 1-3 pm
Ages: 3-8
Rock 'n Troll Mini Dance Camp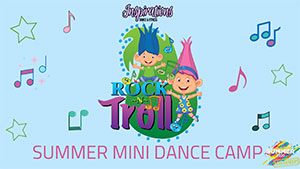 Keep your little moving this summer with a 3 Day Mini Dance Camp inspired by the hit movie Trolls! Put your hands and your hair in the air as you rock out in true Troll fashion. Your child will dance, play games, and make crafts.
Dates: July 14-16, 1-3 pm
Ages: 3-8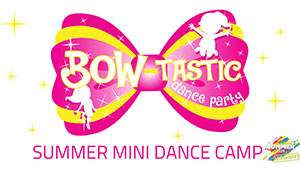 Bring your fashion, flare, and love for DANCE to discover your inner pop star!
Dates: July 18, 1-3 pm
Ages: 3-7
Dance Descendants Dance Party!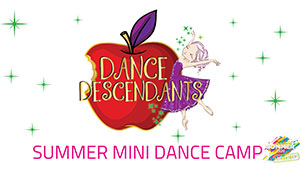 Don't miss out chillin' like a villain with Mal, Carlos, Evie, and the gang.
Dates: July 23, 1-3 pm
Ages: 3-8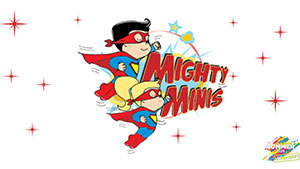 Grab your cape and mask and get ready for a SUPER adventure.
Dates: July 31, 1-3 pm
Ages: 3-7
Sparkle Fairy Rainbow Unicorn Camp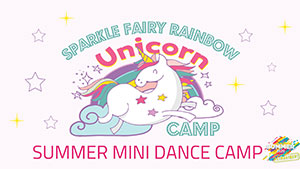 Everything your little one LOVES all rolled up into one MAGICAL camp! Campers will dance, do crafts, and play games. Fairy wings and rainbow tutu included!
Dates: August 4-6, 1-3 pm
Ages: 4-8
Backyard Beach Party Mini Camp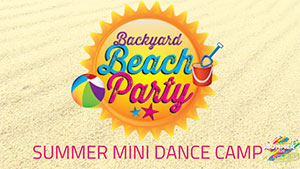 It's all about sun, surf, and sand at this beach party – get ready to kick up your heels and beat the heat with us! Dance, sing, and create to this can't miss theme!
Dates: August 11-13, 1-3 pm
Ages: 4-8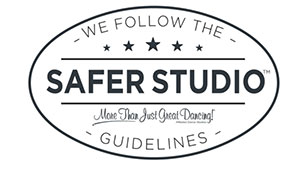 Inspirations Dance and Fitness requires all staff and students to stay home when they are ill. In order to reduce community spread of Coronavirus, we follow best practices and recommendations from our local health department and from our industry association, More Than Just Great Dancing!® and Youth Protection Advocates in Dance. Inspirations understands that unlike older children and adults, young children cannot be expected to maintain social distancing at all times. Therefore Inspirations focuses on a hierarchy of measures beginning with keeping ill people home, followed by frequent hand cleaning and good hygiene practices, amplified cleaning, and curricular and facility adaptations to minimize contact and mingling where possible. All studio classes are backed up on an online learning platform. In the event a class is unable to be held at the studio classes will convert to an online learning platform until in-studio classes can resume.
Inspirations Dance and Fitness
Inspirations Dance and Fitness is an affiliated studio of More Than Just Great Dancing™ and is a certified MTJGD Safer Studio.™
Inspirations Dance and Fitness
400 N Richmond St E, Appleton, WI
www.facebook.com/inspirationsdancefitnessllc