I have this recurring nightmare in which my children are 16 years old and they escape to a friend's house every weekend to eat pizza, sing Karaoke and play laser tag while my husband and I sit at home with our bifocals on, sipping Metamucil and reading bargain biographies. We, the wise parents, are so boring and grumpy that our children want desperately to hang out with anybody who is not us. So hubby and I spend their teen years in a state of pseudo empty nesting before our time. Kids these days. Hmmph.
Whoa—wait a second! WAKE UP! If I have anything to say about it (and I do), my children will not grownup assuming the fun is always found somewhere else. There's plenty I can do to establish home as their place—where fun, love and laughter are a normal part of our family life.
Want to know how? Try these three tips:
Be spontaneous. Sometimes the best family memories are built without any planning. Surprise the kids with an ice cream run after dinner. Jump in the car and go playground hopping. Book a last-minute overnight at a waterpark hotel. Yes, you're busy and you have your adult agenda, but your children will love you for busting out of it every once in a while.
Act like a kid. If you prefer a wine bar over Chuck-e-Cheese, you're not alone. But kids would rather drink orange soda and admit it, you're a closet skee ball fan. So try entering a child's world and see how it strengthens your family bond. Blow bubbles, build forts, go roller skating, play laser tag and Monopoly and air guitar. Quality time with your children is a great excuse to act like a kid again. Heck, it's one of the perks of parenting.
Model acceptance. It's no fun living in a house where you don't measure up. Accepting your kids for who they are and nurturing their positive qualities will help establish an environment of security—a place where they know they're loved no matter what.
Need some encouragement in this area? You're invited to join other moms just like you at a very special event on Saturday, April 18, designed to encourage and equip you to be a super cool FUN parent! The Virtues, Love and Laughter workshop will feature great speakers, refreshments, and mom-to-mom connections for mothers of kids ages newborn through elementary school. Keynote speaker Courtney DeFeo, author of "In This House We Will Giggle," will spend the morning making us laugh as we learn how to teach our kids positive virtues in fun ways.
Virtues, Love and Laughter moms' workshop
Saturday, April 18, 2015
9 a.m. to 12 p.m.
Appleton Alliance Church
2693 W Grand Chute Blvd
Appleton, WI 54913
Early bird registration by April 9: $12 includes goodie bag
Registration cost afterwards: $17
Register at aachur.ch/mw41815
Questions? Contact Sami Moore at smoore@appletonalliance.org. We can't wait to see you there!
---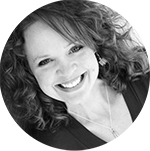 Becky Kopitzke is a freelance writer, speaker, singer, dreamer, lunch packer, snowman builder and recovering perfectionist. She lives with her husband Chad and their two young daughters in Neenah, where a pink indoor trampoline fills half the once formal living room. When she's not carpooling to school or cutting crusts off sandwiches, Becky enjoys leading women's Bible studies at Appleton Alliance Church, where she also sings on the worship team.
Becky believes parenting is one of God's greatest tools for building our faith, character, and strength—and it's not always pretty. On her blog, Time Out: Devotions for Moms, she offers weekly encouragement for fellow imperfect moms, pointing our weaknesses, blessings, and victories to God.