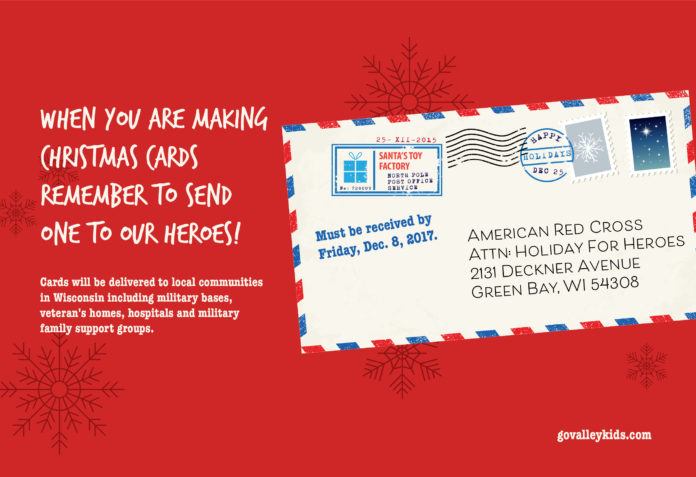 Are you looking for a way to spread some holiday cheer with your kids? Gather up your art supplies and create cards for our local heroes through the American Red Cross Holidays for Heroes program. Cards will be delivered to local communities within Wisconsin including military bases, veterans' homes, hospitals, and military family support groups. So when you are writing out your holiday cards make sure to add this American Red Cross program!
A couple things to remember:
Do not include any items with your holiday cards (like photos, gifts or money). These items will be removed.
Sign your card and include a positive yet generic message. Because they are delivered locally do NOT include messages like "come home safe" or "get well".
Do not personalize, keep the cards generic, do NOT address to specific people.
Examples to use: Dear Hero, Dear Service Member, or Dear Veteran
Choose or create cards for a wide audience like Happy Holidays or Seasons Greetings.
Envelopes are not needed for each card. The envelopes will be removed before delivering.
Do not include personal information like home or email addresses.
Use glitter sparingly or not at all.
If you aren't crafty pick up a couple Holiday cards and include a thoughtful message. Make sure to pick different designs to make the gift more special
Mail or hand deliver cards to your nearest Red Cross Office:
American Red Cross
Attn: Holiday For Heroes
515 South Washburn Street
Suite 201
Oshkosh, WI 54904
American Red Cross
Attn: Holiday For Heroes
2131 Deckner Avenue
Green Bay, WI 54308
American Red Cross
Attn: Holiday For Heroes
1602 2nd St.
Wausau, WI 54403
American Red Cross
Attn: Holiday For Heroes
2600 West Wisconsin Avenue
Milwaukee, WI, 53233
American Red Cross
Attn: SAF – Holiday For Heroes
4860 Sheboygan Avenue
Madison, WI 53705
Deadline:
All cards must be received by Friday, December 8, 2017.
For More Information: