Gov. Tony Evers ordered all Wisconsin public and private schools in the state to close indefinitely. We have rounded up community-wide resources to ensure no kids will be hungry while off of school. As more and more options pour in we'll continue to update our list.
If you know of a place that is offering food for families please comment below or email us at govalleykids.com. This article will be updated early.
FREE Breakfasts & Lunches Available at Schools
Bagged breakfasts/lunches will be available at six locations with times as listed. All meals will be served in a "grab and go" fashion and will include milk. Meals will also include a pre-packaged lunch for the current day, and prepacked breakfast for the next day. IMPORTANT: Meal pick-up times and details may be adjusted as needs are evaluated.
Einstein Middle School
324 E Florida Ave: Parking lot in back of school
11 am – 1 pm
Kaleidoscope Academy
318 E Brewster St, Appleton: Door D (front of building)
11 am – 1 pm
Madison Middle School
2020 S Carpenter St, Appleton: Door G (back side of building)
11 am – 1 pm
Wilson Middle School
225 N Badger Ave, Appleton: Door Q (access from north parking lot)
11 am – 1 pm
Badger Elementary School
501 S Bluemound Dr, Appleton: Parking Lot
10 – 11 am
Columbus Elementary School
913 N Oneida St, Appleton: Parking lot
10 – 11 am
Highlands Elementary School
2037 N Elinor St, Appleton: Parking lot
12 – 1 pm
Horizons Elementary School
2101 Schaefer Cr, Appleton: Parking lot
10 – 11am
Jefferson Elementary School
1000 S Mason St, Appleton: Parking lot
12 – 1 pm
Johnston Elementary School
2725 E Forest St, Appleton: Parking lot
12 – 1pm
Richmond Elementary School
1441 E John St: Parking lot
12 pm – 1 pm
Starting Wednesday, March 30, free meals will be available to all students age 18 and under and all disabled adults age 21 and under who are enrolled in public or private school on Mondays and Wednesdays. No forms or registration are required to receive free meals. The child(ren) must be present in the vehicle or walk/bike up to receive free meals. Each site will be open from 10:30 am – 1:30 pm in a drive-thru.
Families can pick up two days' worth of meals on Mondays (a total of four meals) and three days' worth of meals on Wednesdays (a total of six meals). No forms or registration are required to receive free meals.
Adults are able to purchase meals. Breakfast is $2, lunch is $3, and the breakfast/lunch combination is $5.
Deer Run Park, 1757 Barlament Dr, Green Bay: Parked Pick-Up (Please park in front of the playground equipment)
Green Bay Community Church, 600 Cardinal Ln, Green Bay: Drive Through (Enter from the roundabout on Cardinal Ln)
Howard Elementary School, 631 W. Idlewild Ct, Green Bay: Drive Through
Lineville Intermediate School, 2700 Lineville Rd, Green Bay: Drive Through
Meadowbrook Elementary School, 720 Hillcrest Hts, Green Bay: Drive Through
Pinewood Park, 1013 Harwood Ave, Green Bay: Parked Pick-Up (Please park next to the concessions area)
Free breakfasts and lunch for all kids 18 and under. Call to request for planning purposes one day ahead from 8am to noon: 920-779-7924
Greenville Elementary, W6822 Greenridge Dr, Greenville : Main Door
11:30 am – 12:30 pm
Hortonville High School, 155 Warner St, Hortonville: Main Door
11:30 am – 12:30 pm
Cottages on Main, West Main St, Hortonville: Parking Lot
11:30 am – 12:00 pm
Michael Ritger and Birch Street Corner, Hortonville
12:05 pm – 12:30 pm
Baake and Mill Street Intersection, Hortonville
11:30 am – 12:00 pm
St Paul's Church, Mason St, Stephensville: Parking Lot
11:30 am – 12:00 pm
Trinity Church, Hwy O, Hortonville: Parking Lot
12:05 pm – 12:30 pm
St Edwards, N2926 WI-47, Mackville: Parking Lot
11:30 am – 12:30 pm
Country Crossing, Hwy BB, Hortonville: Main Office Parking
11:30 am – 12:30 pm
Immanuel, North & Julius St, Greenville: Parking Lot
11:30 am – 12:00 pm
Redwing and Craftsmen Intersection, Greenville
12:10 pm – 12:30 pm

Beginning Wednesday, March 18, Kaukauna Area School District, in collaboration with Chartwells, will be making meals available to students. All children 18 and younger are eligible to pick up free lunch and breakfast.
All meals come in a grab-and-go bag, so as not to promote congregation at the delivery location.
Registration is not required. There are no forms to fill out and no names are written down. Parents and guardians are able to pick up meals for those children unable to attend. We understand some students/parents will be unable to make it to this location. Should this be a concern, please call (920) 759-6122. We will make arrangements to get meals to those students that cannot make it to River View during the scheduled distribution times.
Monday through Friday (including Spring Break): 9 -11 am
River View Middle School, 101 Oak St, Kaukauna: drop-off parking lot from Kaukauna Area School District delivery truck
Meals are free to all children 18 years or younger starting Wednesday, March 18, Monday through Friday, 11 am – 1 pm.
Westside Elementary School, 746 W. Third Ave, Kimberly: front door pick up
Kimberly High School, 1662 E. Kennedy Avenue, Kimberly: front door pick up
Starting Tuesday, March 17 FREE pick up lunch (hot meal) and breakfast is available for all children, 18 years and younger. Children do not need to be present.

On Friday pick up your meal for the day and frozen meals for the weekend.

MENU
Monday – Friday: 11 am – 12:30 pm
Clovis Grove Elementary School, 974 9th Street, Menasha: Front Door (Door #1)
Maplewood Middle School, 1600 Midway Rd, Menasha: West Parking Lot (Door #3)
Menasha High School, 420 7th St, Menasha: Parking Lot by the Field House (Door #18)
Meal Pick-Up Site: Schindler Place Apartments, Menasha: Between Apt. #300-500 Schindler Place
11 am – 12:30 pm
Meal Pick-Up Site: Calumet Street Apartment Buildings: between Southwood Dr & Oneida St
12:05 pm – 1 pm
All children 18 and under are eligible to receive a free lunch and breakfast for the following day during the school closure period due to COVID-19.
Ten buses staffed by District volunteers will make stops at 97 different locations throughout the District on weekdays from Wednesday, March 18 through Friday, April 3. There will be meals delivered during spring break March 23-27. If the school closure is extended in April and May, the meal delivery will continue.
Bus drop off locations and times.
FREE Lunch and Breakfast provided to All children ages 0-18 years old.
At pick-up locations, a responsible student or parent can ask for the number of meals needed so small children or anyone who is ill does not have to go outside to get the meals. Group pick-ups are allowed. We cannot leave meals on doorsteps or drive down driveways or hazardous roads to provide meals. If you have any further questions, please contact the district office at (920) 982-8530 or the bus garage at (920)-982-8543.
Monday – Friday: 11 am – 1pm
UCC (First Congregational United Church), 110 E. Hancock St, New London; near Lincoln Elementary
Middle School, 1000 W. Washington St, New London; (back canopy) on school's south side
High School, 1700 Klatt Rd, New London; Door #23, Library/Teaching & Learning Center Entrance
Intermediate/Middle/High School, 1420 Freedom Rd, Little Chute: 10:30 – 11:30am

Lunches will be distributed through June 30th.

The Little Chute Area School District has applied for a special program through the State of Wisconsin that will allow us to serve meals during the upcoming school closure.  Our foodservice partner, Taher, will be providing free pre-packaged, grab-and-go Lunch and Breakfast meals to ANY child age 18 and under.  

The grab-and-go meals will include an entree, fruit/vegetable, and milk.  Each day, children will receive two (2) FREE pre-packaged meals (lunch for that day and breakfast for the following day).  

To order meals for the week (Monday through Friday), please complete School Closure Meal Order Form no later than noon the Friday prior.  en español

Pickup will be in the horseshoe driveway near the District Office Entrance to the building.
Grab and go meals available during school closure. Weekend meals distributed on Fridays.
Perry A Tipler Middle School, 325 S Eagle St, Oshkosh: 11 -11:40 am
Jefferson Elementary School, 244 W 11th Ave, Oshkosh: 12 – 12:40 pm
Oaklawn Elementary School, 112 Viola Ave, Oshkosh: 10:45 – 11:15 am
Merrill Elementary School, 108 W New York Ave, Oshkosh: 11:30 am – 12 pm
Webster Stanley Middle School, 915 Hazel St, Oshkosh: 12:15 – 12:45 pm
Oshkosh North High School, 1100 W Smith Ave, Oshkosh: 11:30 am – 12:30 pm
Neighborhood locations are reserved for children living in listed neighborhoods. All meals will be FREE for Oshkosh Areas School District students and will include milk and breakfast for the next day.
Logan Drive Neighborhood, 3317 Logan Dr, Oshkosh
Bus will stop in each development for 15 minutes.
10:45am – 11:15am
Snell Road Mobile Home Community, 1940 W Snell Rd, Oshkosh
Bus will be located near blue office building
11:20am – 11:50am
St Andrews Church Neighborhood, 1100 E Murdock Ave, Oshkosh
Table in front of St Andrews Church and Bus will be parked on Evans St between Greenwood Ct and Mallard
10:45am – 11:15am
Cimarron Court Neighborhood, 130 Cimarron Ct, Oshkosh
Bus will be parked by the community pool
11:30am – 11:55am
FREE Breakfasts & Lunches Available at Local Businesses & Organizations
Boys & Girls Clubs of the Fox Valley
160 S Badger Ave, Appleton
600 Racine St, Menasha
Planning to provide bagged meals for kids via a "drive-thru" set up at the Clubs in Appleton and Menasha.
Dinners for youth may be picked up Monday – Friday from 4:30 pm – 5:30 pm. Parents may pick up all meals once a week using a pickup form. You will not need to have a child or youth enrolled as Club member to qualify for these meals. Please fill out form for planning purposes here.
A&W
271 S Main St Clintonville
Half Off all Kids Meals while Clintonville Schools are shut down to help everyone feed their families during this time. This special will be limited to Kids under 12 and will include a kids cone or Root Beer Sucker instead of a toy.
Chicago Street Pub, Grill & Banquets
1950 Dickinson Rd, De Pere
Beginning Wednesday, March 18th FREE bag lunches will be available to any children K-12. Lunches will be offered from 11 am – 1 pm Monday thru Friday until further notice. Lunches will include a ham or turkey sandwich, applesauce & string cheese, and will be available for pick up in the banquet hall. Enter in the door with the sign located above that says "Lunch Pick Up" located on the east side of the building.
Dropp Bar Cafe / Recyclist Bicycle Co.
631 Saunders Rd Kaukauna
If you know of someone in need who will have trouble supplying breakfast or lunch to their kiddos due to schools closing, private message Dropp Bar Cafe or Recyclist Bicycle Co on facebook.
El Agave Mexican Grill & Restaurant
1750 North Casaloma Drive Appleton
Free meal or drink for those who need help.
If the school closures have you concerned about your child not being able to eat breakfast or lunch let us know. We will do what we can to help. With some Free meal and a drink for your kids -Feel free to PM- absolutely no judgment. This also applies to senior citizens. No child should go hungry because of this! We must stay together as a community during these difficult times.
Erbert & Gerbert
355 N. Casaloma Dr, Appleton
218 E College Ave, Appleton
Free Kids meal with $10 purchase or more for one free kids meal. Present student ID or be from the grades K-12 for the kids meal, valid from 3/14/20 through 4/06/20. Good for one person per visit per day. Valid at participating locations (Appleton College Ave and Appleton Casaloma), while supplies last.
Freedom Center Food Pantry
1110 S. Oneida St, Appleton
If we have enough appropriate volunteers the Freedom Center Food Pantry will run a drive-thru for pre-assembled boxes or bags of food items including milk from 2:45 – 6 pm on Wednesday. Follow their Facebook page for future updates.
Gallagher's Pizza
330 Reid St, De Pere
2655 W Mason St, Green Bay
1927 S Webster Ave, Green Bay
2306 Lineville Rd #101, Suamico
Starting Wednesday, March 18, all locations will be offering a free slice of pizza, applesauce and cookie for children grades K-12 from 12:30 – 2 pm.
Howe Community Resource Center
526 S Monroe Ave Green Bay
March 23, 2020: 8 am – 12 pm
Drive-thru pantry for families in the Howe Community programs to help during this uncertain time. This event will also inform families of the services and resources still available while schools are closed.
Little Free Pantry – Hortonville
531 N Nash, Hortonville (Accessible through the POLICE entrance 24-7 365 next to the medication drop off and AED)
Boxed or canned food items, unopened toiletries, unopened personal care items, paper goods, school supplies, snacks for children (unopened/nonperishable), baby items. No perishable foods (meats, bakery, produce etc.) For anyone in need or have extra to donate.
Mr. Taco
700 Schelfhout Ln, Kimberly
Until schools re-open Mr. Taco will offer free meals to kids from 11 am to 3 pm Monday through Friday.
Old Mexico Authentic Cantina & Grill
11884 Velp Ave, Suamico
Free lunch for kids in need. Deliveries will be Monday – Friday from 11 am – 2 pm. Any questions feel free to call (920) 634-2260
Planet Perk Coffee Houses
City Center, 100 City Center Suite C, Oshkosh
Starting March 16 until school resumes, children on the free/reduced lunch program and in need of assistance can receive a free, limited carry-out menu for breakfast and lunch. For more information email ken@planetperkcoffeehouses.com.
St. Joseph Food Program is offering drive through grocery pick up for anyone with a St Joe's card (cards available by calling 920-734-9461 x 309).

Monday, Wednesday, Friday: 9 am – 11 am
Monday night: 5 pm – 6 pm
The Salvation Army of Greater Green Bay
Effective Monday March 16, The Salvation Army Corps Community Center's Noon Lunch Program will temporarily transition to a take-out lunch program. Until further notice, lunch will be served on the Union Court (west side) of the building from 11:30 am to 12:30 pm. Anyone in need is welcome to receive a meal in a to-go container to be served from our mobile kitchen (canteen). Drive-up service will be available.
Youth Go
213 Nicolet Blvd, Neenah
Youth Go families can choose to have food delivered to their houses or pick food up at Youth Go.
If your family is interested in Youth Go Food Sharing, please email info@youthgo.org
Community Resources at 2-1-1
Need additional help? United Way supports 211, a free and confidential service that helps people across Wisconsin (and throughout North America) find the local resources they need 24 hours a day, 7 days a week. 211 can be accessed by phone or computer. A toll-free call to 211 connects you to a local community resource specialist.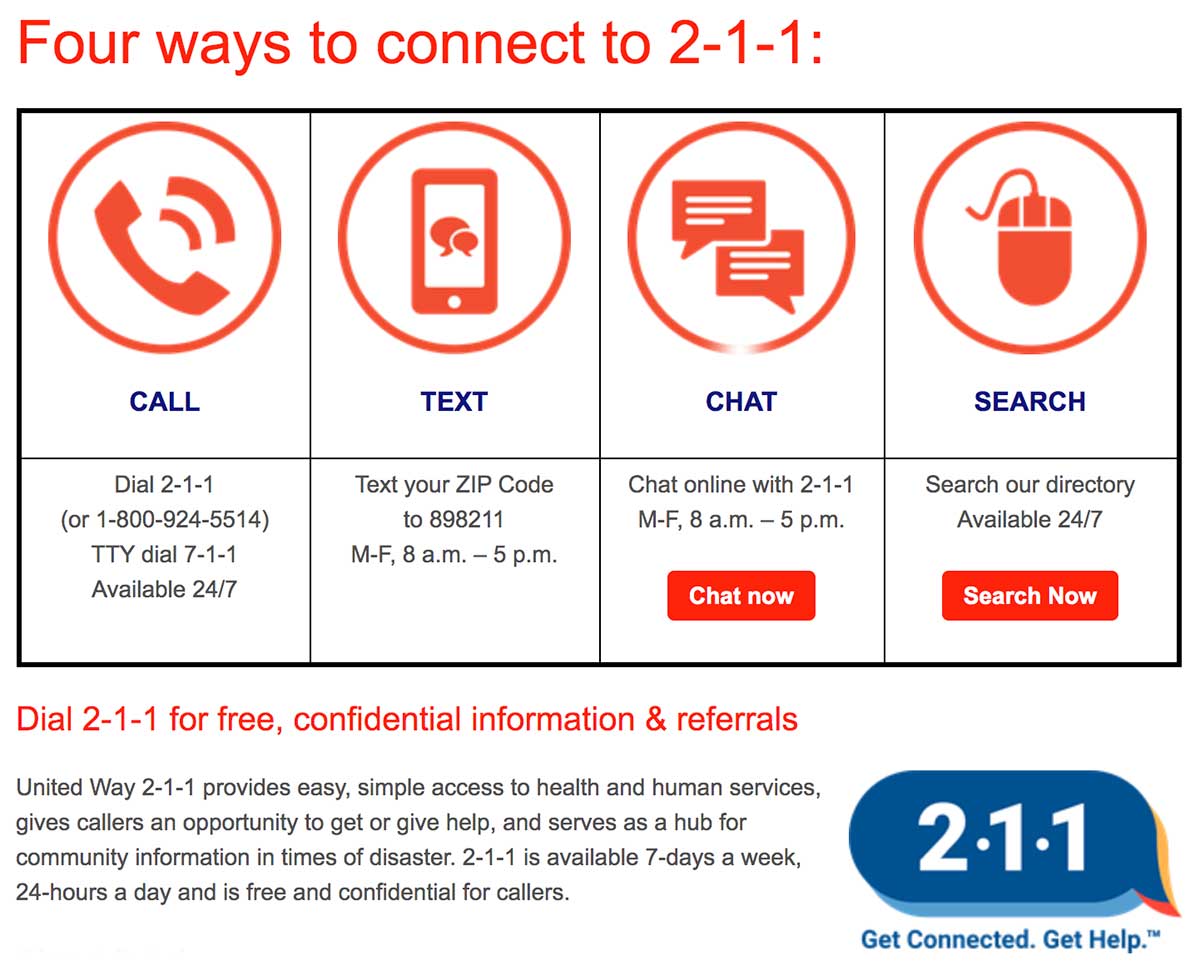 Other Places to Donate or Volunteer
Looking for donations and volunteers. Contact for more information.
Freedom Center Food Pantry
1110 S. Oneida St, Appleton
Looking for volunteers. The Pantry is staffed ONLY by volunteers and can always use more help. Just show up, they will train on the job. Donations can be dropped off anytime. Drop off box is located by main entrance.