I love flying. I'm always antsy about packing and getting to the airport on time – the prep work – but the actual flying part is amazing to me. I can hop on a plane and be somewhere completely different in a matter of hours. I can sit back in my seat and pass the time reading a book, staring out the window or listening to music.
This is how I felt before I had to fly with a toddler.
Flying with an infant or toddler is completely different! I become a stress ball, worrying about every horrible scenario that could unfold. What if she panics and cries until the plane lands? What if she has a super smelly poop? What if she gets scared? What if another passenger complains? What if she's in pain because her ears pop? What if she gets motion sickness? What if we get kicked off of the plane – or what if they have to land the plane because of my child? Or worst of all, what if I forget to bring her Elmo along in her carry-on?
I had nightmares of having a viral tweet about how Allegiant Airlines threw my family off of our flight. I don't even use Twitter! I may have been in freak out mode.
I realized I just needed to prepare and be ready for any issue that may arise. I read lots of stuff on the internet, of course, including that article about the parents who made little gift bags for all of the other passengers. At first I thought, Oh that's a cute idea. Then, as I thought about it more, I got upset. Why should anyone feel the need to buy gifts for an entire plane full of strangers just because you have a child with you? Personally, I find the flatulent gentleman in the seat in front of me or the loud-chewing passenger to my right much more offensive than any crying baby.
Okay, rant over. Time for some tips for flying with toddlers!
1. Snacks
Pack plenty of snacks your child loves. We knew that our daughter would be happy with just about any kind of crackers, dry cereal and Gerber snacks. When she was smaller, we brought a bottle cooler full of milk, so she could have a bottle during take-off, which is not only comforting, but it is also supposed to help with any discomfort from the change in cabin pressure.
2. Sippy Cup
Bring along your child's favorite kind of sippy cup or water bottle. Once you get through the security checkpoint, you can purchase a beverage to put in the cup or fill it at a drinking fountain (sorry, Wisconsin people, I mean "bubbler").
3. Ears
Chewing on a stick of gum during take-off is helpful to reduce ear pain and popping during the change in altitude. But chewing gum is not an option for an infant. Having a bottle or drinking anything can help. Older kids can try eating a chewy food, like fruit snacks. You can also treat your child with Tylenol or Advil if the pain persists. Breast milk, formula, baby food and medications for small children don't fall under the same restrictions as other liquids.
4. Toys & Books
Stuff your child's carry-on bag with small, quiet toys and compact books. Even if your child doesn't touch most of what you've packed, it's nice to have options. I packed some board books, a baby doll, crayons and coloring books, and a toy doctor kit. Some of the other Go Valley Kids writers also had the great suggestion to buy some inexpensive toys that you can pack in the carry-on as surprise gifts.
5. Electronics
There is no denying that having some sort of electronic device is the ultimate distraction for a lot of kids. I decided to let go of any rules I have about screen time before flying with my daughter. If watching something on our tablet was going to keep her content, I'll let her stare at it the entire flight. Bring your iPad, Kindle Fire or whatever kind of tablet you may have and release yourself of screen time guilt. If there is a time to let it go, it is while you're at 36,000 feet. Also, don't forget to bring your charger or portable battery.
6. Comfort Items
Most children have that one thing they are attached to, that soothes them. My daughter's favorite thing is her Elmo plush (well, it used to be plush) doll. If she doesn't have it, she doesn't sleep. If I let her, she would always have Elmo in hand. My little girl also still sometimes finds comfort in her pacifier during naptime. I take the David Beckham approach to parenting when it comes to pacifiers.
7. Car Seat
Children under 2 years old are not required to have their own seat, although the Federal Aviation Administration and the American Academy of Pediatrics suggest that parents use car seats or a CARES Harness. It is your choice whether or not you want to have your child on your lap, or whether you buy a seat.
My husband and I took my daughter on a 4-hour flight when she was under 2, and I held her on my lap for the entire flight. We got through it just fine, but if the flight had been any longer, it would have been nice to have her in a car seat for her comfort and mine.
On our most recent flight, we had to purchase a seat for my daughter. We chose to bring along her car seat. We thought if we try to make the flight seem just like a normal ride in the car, she wouldn't get scared or nervous. It seemed to work.
If you bring your child's car seat, make sure that it has a "FAA Approved" sticker on it. The TSA agents and flight attendants will check for this sticker!
8. Security
Anyone who has ever tried to get a toddler's shoes on in the morning when you're rushing around, knows that having to take those shoes off and put them back on in a short duration can seem like torture. Good thing kids under 12 years old don't have to remove their shoes to go through security!
If your child can't walk yet, you can carry him or her through the detectors. If your little one can walk, the TSA agent will probably ask him or her to walk through on their own – and if you get a really nice TSA agent, your kid might get a sticker.
Everything needs to go on the belt to be x-rayed. Carry-ons, electronic devices, any liquids, strollers, car seats, booster seats, even that favorite stuffed animal, needs to go on the belt.
Well before you actually arrive at the airport, make sure you check out the TSA blog and website to learn more about the 3-1-1 liquids rule and other tips for traveling with your child.
I hope these tips help you on your journey with your little one! If you're flying somewhere soon, have a safe trip! If you any questions about flying with your child, don't hesitate to consult your child's pediatrician for other tips.
---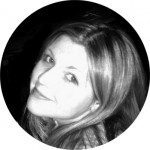 Meghan Petters is a Wisconsin native, and currently lives in the Fox Cities with her husband and spunky toddler. She spends her workdays in a gray, water-stained cubicle, drinking skinny vanilla lattes, attempting to make sense of the legal system. Her dream job is to make mix tapes for her friends all day on her Sony dual cassette boombox. Meghan enjoys music and movies, baking, road trips, writing, photography, daydreaming, getting her feet rubbed and, most recently, coloring with her daughter.
Read more from Meghan here.