This past weekend my daughter and I made a visit to the Festival of Trees Exhibit at The Trout Museum. If you are unfamiliar with this holiday event, it's in its second year and it showcases over two dozen Christmas trees and holiday wreaths which are on display for about 3 weeks. The items are then bid on via auction on the last day of the exhibit to people who can take them home and enjoy them for the holiday season. The trees and wreaths decorated by local businesses and artist are beautiful and creative and usually centered around a theme. Beer, hand knit goodies, toys, wine and the north woods are just a few. This is a great event to visit on your own, with your children (I would recommend older children that aren't so eager to touch the displays) or to go with family and friends. It can also be a fun thing to do if you have guests visiting from out of town.

This is event is something I would definitely recommend seeing for a number of reasons.
You can stop in for just a few minutes or stay awhile and look around. The exhibit is designed so you can go at your own pace and is flexible depending on how much time you have.
The event is free but donations to the museum are encouraged and welcome!
The proceeds from the auction go to the Fox Cities Building for the Arts education programs. A main priority of these program is to give children who don't have an opportunity to visit a museum or interact with the performing arts the opportunities to do so. The proceeds from trees at the local businesses go towards the nonprofits of their choosing.
 It's an opportunity to get out and visit local downtown businesses. 14 are participating in this event and have decorated trees at their locations. See a map here.
On Saturdays and Sundays during the exhibit the museum has a drop-in art studio where visitors can make up-cycled Christmas ornaments, wrapping paper and other Christmas themed crafts. This is a fun thing to do with children! See the schedule for the events here.
Hear live music. A variety of performers will be performing at various times. We saw a Lawrence Academy of Music student singing and playing a guitar while we strolled around. Find out more about the performances here.
Get in the holiday spirit. Yes the event starts at the beginning of November but that is so the trees can be auctioned off for people to enjoy in their homes in time for the holiday season.
This exhibit is a great way to expose your children to the arts. It's also a great way to introduce the whole family to a real art museum without it being too overwhelming or too much of a time commitment.
The display runs November 1st-21st. The Auction reception is from 6-8 p.m. on November 21st, this is the final opportunity to bid on the trees and wreaths on display. You must register for the reception. This year the museum hopes to raise $35,000.
Trout Museum of Art
111 W College Ave, Appleton, Wisconsin
www.troutmuseum.org
---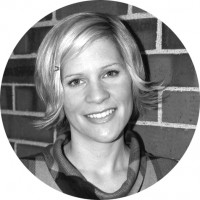 Jen Van Rooy is an Appleton native, mother of two and a part time Community Manager for a Minneapolis based Social Services Company. Her interests include all things family, reading, writing and being active in the community.