Want to spend more time this summer adventuring with your family and less time shopping and thinking about what you're going to feed them?
This new CSA option for Fox Valley and Green Bay families brings locally grown, organic produce directly to your door from mid-June to mid-October. And, maybe best of all, you can choose what you will receive in your box from the seasonally available choices, so you won't be burdened with figuring out what to do with an influx of rutabagas!
What is a CSA? Community Supported Agriculture is a movement to directly connect local farmers with community members. When you are a CSA member, you receive the freshest products possible, and you know precisely where they are coming from.
In addition, you're supporting local small farmers by committing to them and providing direct cash flow and stability through the growing season. The footprint left on the environment by your family shrinks, and the money that is spent directly impacts local families and the local economy.


The Most Convenient and Customizable CSA You'll Find
Farmer's Best and SLO Farmers Co-Op have partnered to bring the area a unique approach to CSA membership. While you're still moving through what is seasonally available, you can choose what will be in your box. Your box size depends on what you choose, and it is delivered directly to your door.
How SLO Farmers Organic Veggie CSA Summer Shares Work
To participate in the SLO CSA, you choose the size and frequency of your deliveries and pay a $50 down payment. Your down payment will be credited to your first week's delivery. Each week you have a window to change the contents of your box online.
FAQ About SLO Farmers Customizable Veggie CSA:
What is the difference between the share sizes?

An Every Other Week (EOW) Small Share meets the needs of 1 – 2 people, and you receive 8 delivered boxes every other week starting in mid-June.
A Summer Small Share will feed 1 – 3 family members and is delivered weekly for 18 weeks.
A Standard Summer Share is ideal for a family of 3 – 5 and is delivered weekly for 18 weeks.

When will CSA boxes be delivered?

Deliveries start in mid-June and continue through mid-October. You can join once the season begins if shares are still available.
Most Fox Valley and Green Bay addresses will have their boxes delivered to their home; a small area has pickup locations. Find your route on their delivery map.
Deliveries occur Tuesday – Friday between 6 am – 5 pm. Your delivery day and time will depend on which route you're on.

How do they keep the delivery cool?

If you have a garage refrigerator or freezer, you can give the drivers access to drop off your delivery and put the items that need to be kept cool or frozen away.
You can put out a cooler to have your cool things put inside. Keep your cooler in a shaded area!

What happens if we're on vacation?

Two holds for vacation are available throughout the season.

How do we customize our CSA box?

Customization opens online starting at noon on Wednesday and stays open until 7 pm Thursday the week before delivery.
Your box will be preloaded with a variety of 6 – 10 vegetables that can then be adjusted. Want to skip beets or kale? No problem! Just take them out and add something else you want.
The minimum box order is $30 for small shares and $40 for standard shares, but you can add more of your favorites!

Additionally, You can add other great local meal items to your order like farm fresh eggs, a meat CSA or individual meat cuts, milk, yogurt, cheese, breads, coffee, tea, meal kits, maple syrup, pasta, snacks, and so much more.
Sounds great! How do we sign up?!
More About SLO Farmer's Co-op
Founded in 2014, the SLO Farmers Co-op is an emerging producer's co-operative in northeastern Wisconsin committed to providing quality farm products that sustain both our farms and our environment. All members agree to meet set production standards, including humane, pasture-based rearing of animals, no GMO's, no synthetic pesticides or herbicides, and no antibiotics. SLO's sustainable farmers believe in meeting the needs of the current generation without compromising the needs of future generations. Balancing people, planet, and profit is needed for a thriving local agriculture.
Farm members include Flying Tractor Farm in Sturgeon Bay, Full Circle Community Farm in Seymour, Golden Bear Farm in Kiel, Groche Organic Farms in Suamico, Kellner's Back Acres in Denmark, Viola Kitchen Garden in Frances Creek, Pape Family Pastures in Peshtigo, and Lake Orchard Aquaponics in Sheboygan.
About Farmer's Best Home Delivery
Farmer's Best Home Delivery offers local (within 60 miles!) produce, bread, dairy, eggs, meats, pantry staples, meal kits, and more. All delivered to your doorstep for free for orders over $45 and small fees for smaller orders. Started in 2018 by a SLO Farmer Co-op member at that time, Groche Organic Farms, that had a hard time getting their vegetables and meats to local tables. Brian and Teri Gronski stated, "We had great offerings but no channels outside of seasonal farmers markets and off-farm sales due to the industrialization and consolidation of the food and grocery industry. We knew family's time is valuable and often seems in short supply so we thought let's bring our food directly to them in a convenient and economical way. That was the genesis of Farmers Best Home Delivery."
Delivery Area
All areas on the map below can receive deliveries. In the yellow zone, deliveries are made to a pick-up location—all others are direct to your door.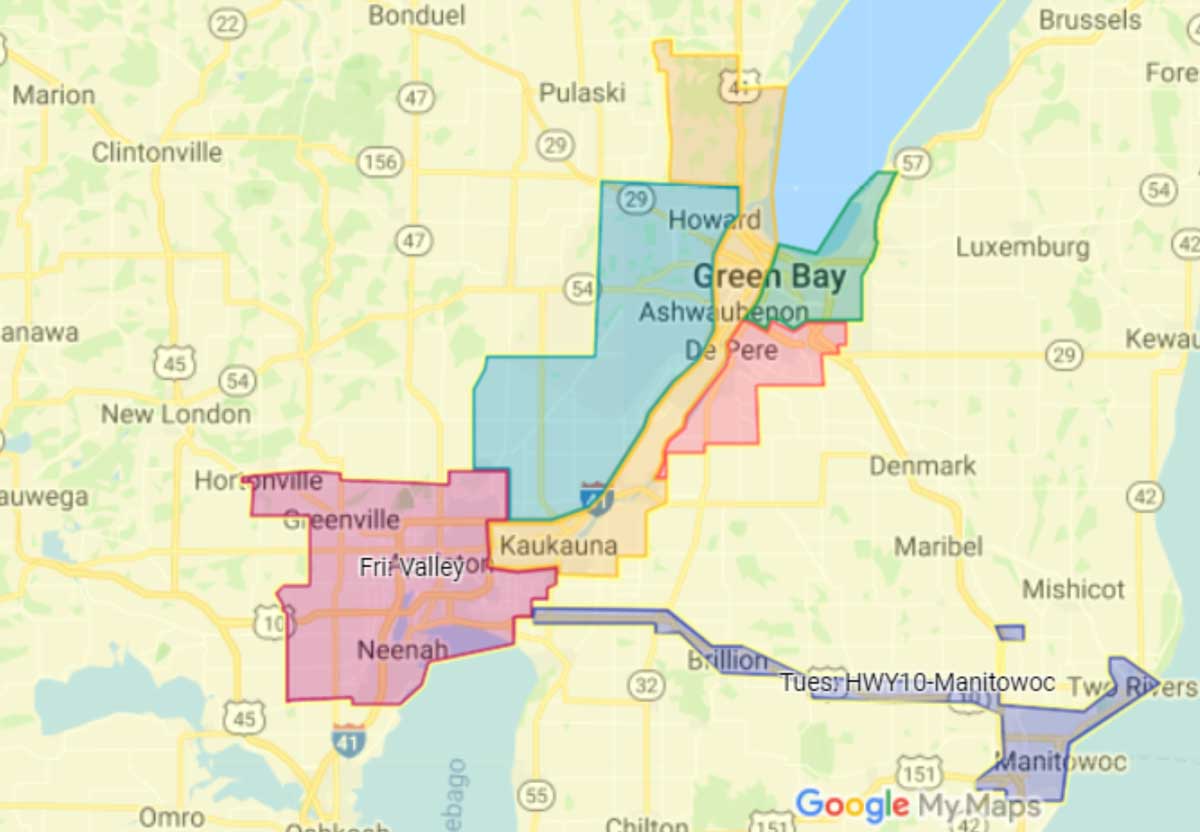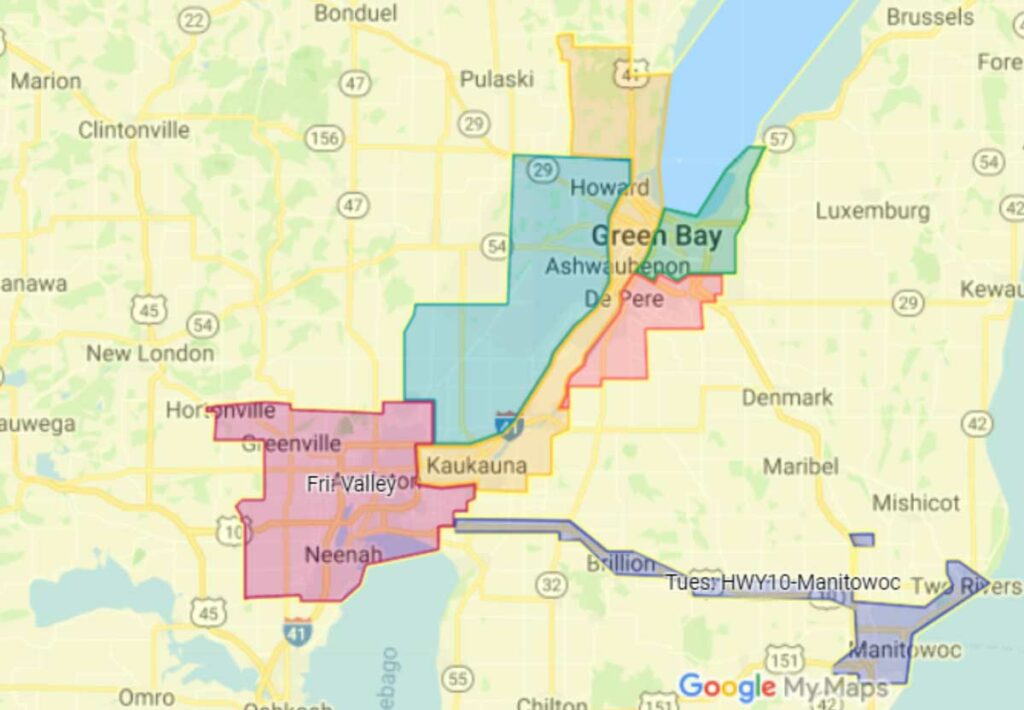 How it Works
Check the delivery area. Sign up online.
Shop and place an order! Choose from over 200 great local food items; including Lamers' glass-bottled milk, organically grown produce, grass-based meats, fresh-baked bread, locally roasted coffees and so much more! Items selected can be placed on your next order or set up as a recurring item, which is great for items you need every week, every other week, or only once a month.
Don't worry, you don't need to be home when we arrive. Your delivery, per your instructions, will be placed in your garage refrigerator, cooler, or milk box.
Farmers Best carries SLO Farmers Co-op Summer CSA Shares. Sign up today!