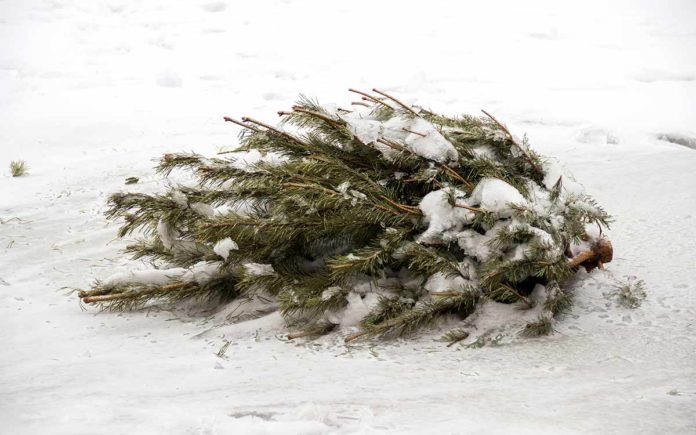 You have taken down the Christmas tree, now what? We have rounded up where to find Christmas tree recycling in the Fox Valley!
General Tips for Recycling Christmas Trees
Natural real trees only (no artificial Christmas trees).
Christmas trees must not have lights, decorations, tinsel, flocking or chemicals. Tree stands need to be removed.
Most common varieties are recyclable including – Blue Spruce, Douglas Fir, Fraser Fir, Scotch Pine and White Pine.
Trees larger than 7 ft may need to be cut in half.
Do not place Christmas trees in plastic bags.
Locally purchased Christmas trees only from Wisconsin Tree Farms. No wreaths, garland or other decorative boughs because of invasive species, elongate hemlock scale. Read more here >
Contact donation site before dropping off trees to confirm they are still needed.
NEW Zoo in Green Bay accepts Christmas tree donations for animal enrichment activities!
Christmas Tree Recycling Drop Off Locations
Buboltz Nature Preserve
4815 N Lynndale Dr, Appleton, Wisconsin
(920) 731-0641
bubolzpreserve.org
Recycle your Christmas tree at Buboltz Nature Preserve now until January 12, 2019. Trees will be used for Winter Survival Programs and can be dropped off in the far back corner of the parking lot between the Preserve and Girl Scouts lot. For questions contact Courtney Osenroth at (920) 731-0641 or cosenroth@bubolapreserve.org.
Hatch'em Acre
W1296 State Highway 96, Kaukauna
(920) 212-0034
facebook.com/hatchemacre
Christmas trees will be goats and chicken pens. Call or message to arrange pickup or drop off. Donated trees will receive $5 credit for eggs, chicks or ducklings. Drop off available on Saturdays from 10 am – 12 pm in Kaukauna.
Fox Crossing Farms, LLC
1470 Jacobsen Rd (off CB and 10 across from Miron and the Shell), Neenah
foxcrossingfarms.com
Drop off trees before the city picks them up! The sheep at Fox Crossing love eating them and it's a great source of vitamins for them. Note, they also love pumpkins! Christmas trees can be dropped off anytime on the RIGHT side of the driveway. Please note do NOT go near the barn or sheep. They have guard dogs and a very dangerous ram (and they have cameras). Watch for an open house in the spring with baby sheep.
NEW Zoo
4378 Reforestation Rd, Green Bay, Wisconsin
(920) 434-7841
newzoo.org
The NEW Zoo can accept locally-sourced trees that the donor can deliver to the zoo. For drop-off instructions, send a message to the NEW Zoo's Facebook page or email volunteer@newzoo.org. Trees must be free from all tinsel, paints, and any other decorations, for the safety of the animals. Trees are used for play and enrichment activities for the animals.
Fishing Clubs along Lake Winnebago
Trees are used for marking roads on Lake Winnebago for ice fishers.
fishwinnebago.com/fishing-clubs 
Appleton Municipal Building Drop-off
2625 E Glendale Ave, Appleton, Wisconsin
(920) 832-5588
Winnebago County Landfill and Recycling Drop-off
100 W County Road Y, Oshkosh, Wisconsin
(920) 232-1800
Brown County Yard Waste Drop-Off – Ashwaubenon
Collaer Court Green Bay, Wisconsin
(920) 448-2800
Christmas Tree Recycling Curbside Pickup
Most cities and towns pick up Christmas trees curbside on regular recycling days 2-3 weeks after Christmas to be recycled into mulch. If weather is bad collection could be extended into the following week. Make sure your Christmas tree is not buried in the snow and remove all plastic tree bags.
Appleton: January 14 – 18, 2019
Greenville: January 14, 2019
Neenah: begins January 7, 2019
If you see updates for any other cities, please let us know!
Christmas Trees for the Birds
Consider leaving your tree in your backyard to feed the birds this winter! Make sure all ornament hooks, decorations, garland and tinsel are removed. By Summer the branches will become brittle and you can break the tree apart by hand for campfire firewood.