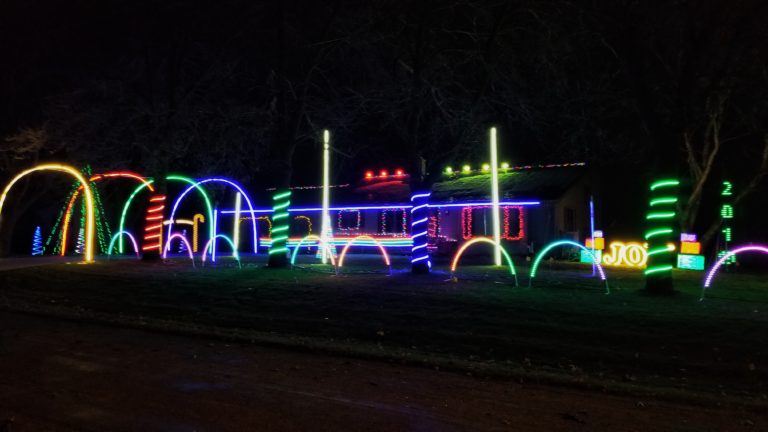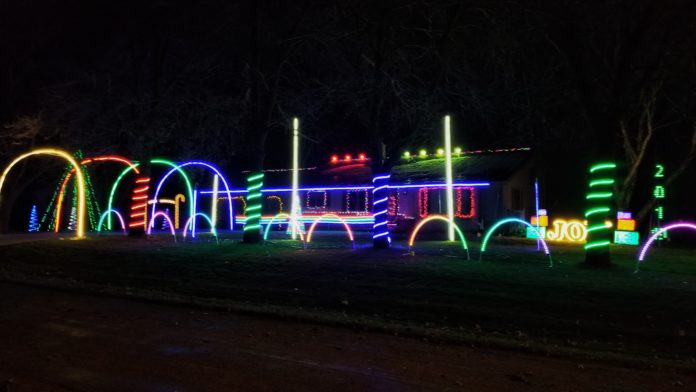 Christmas on the Fox Light Show is a Holiday Light Show Favorite!
You can find Christmas on Fox Street at 1020 Fox Street in Chilton, Wisconsin beginning to glow on November 29, 2019. The lights are on from 4:30 pm to 9 pm on weekdays and 4:30 pm – 10:00 pm on Friday and Saturday. We talked with the crew behind this impressive outdoor Christmas light display with music.

What is your favorite part about Christmas on the Fox?
Our favorite part of the light show is the new pixel trees and arches this year. We also love seeing all the visitors and hearing what they enjoy about the show.
Tell us a little about you? What do you like to do in your free time? What else keeps you busy?
There are three of us that run and work on the light show. We all contribute to the success of the show in one way or another. Besides working on the light show Eric and Kelly enjoy camping, racing, and vacationing with their four children. Kory enjoys being outside and is always tinkering around, building, or working on something.
When did you start your light display?
We started our display in 2017.
Why did you start?
We started thinking about starting a show in 2015 after visiting the Oshkosh Celebration of Lights and a home in the Appleton area. We thought it would be a good idea to do something like this on a smaller level in Chilton for families to enjoy for free. After 2 years of talking about it, we finally decided to try it. We were surprised at the number of people that came by the first year, so we have continued it for the last couple of years, getting bigger and better each year.
When do you start putting your lights up each year?
We start putting up lights in late September or early October.
How long does it take for you to get everything set?
It takes 2 to 3 months to get all the lights set up and tested before the light show starts but putting on a light show at this level is a year-round thing. When people are enjoying this year's light show, we are already starting to discuss and plan the following year's show. This allows us plenty of time to order any needed parts and build any new features.
How many strings of lights are in your display?
We have over 22,000 LED lights and 3,712 channels that control when the lights turn on or off (think of a channel like a light switch).
Are there any new elements in the works?
There are always new things in the works. We are sure that next year we will be adding more pixel lights. Pixel lights are very cool because, unlike standard Christmas lights and RGB lights, each light on a string of lights can be individually controlled in software. The lights are not just all on or all off and they are also not just all one color, which allows us to do some interesting patterns.
What are your future plans? Are you collecting donations for a charity?
Our future plans are to continue to grow and spread the word so more and more people can enjoy the show.  This year is our first year collecting donations. The donations will be given to Wisconsin Adoption and Permanency Support GIFTS program. Wisconsin Adoption and Permanency support is a non-profit organization that assists adoptive and guardianship families through their GIFTS program which provides education, resources, support, and outings for adoptive and guardianship families. To learn more about their programs find them on Facebook or online at www.wisapsp.org  

Tips for viewing!
Tune your radio to 99.9 FM to hear the music.
Hours are 4:30 pm – 9 pm on weeknights starting November 29th and 4:30 pm – 10 pm on weekends and New Year's Eve.
Please turn your headlights off if you are parked facing the lights or parked behind someone.
Please do not park in front of the neighbors' driveways.
Please be patient with others on heavy traffic nights.
Find more information and updates on Christmas on Fox Street's Facebook page.
Our comprehensive holiday season lights list: govalleykids.com/holiday_light_displays