Raise your hand if you've ever had a bag of donations as your travel companion. Raise your hand if it has been more than a couple of weeks and it is still doing cartwheels in your trunk. I've discovered an alternative: The Buy Nothing Project.
During Stay-at-Home, I binged several home organization shows on tv and made it my mission to declutter our home. I was thrilled with making weekly trips to our donation center! Items were not bringing me joy, and they must be just what someone else is looking for, right?
Not so fast! In comes the tinsel Christmas tree ordeal. My child no longer wanted it in their room, so I packed it away to donate. At the donation center, the volunteer went through my box of items and noticed one of the legs for the tree was not with the rest of the tree. She refused to accept it. I assured her that all four legs were there, probably had just sunk to the bottom. After some back and forth, I ended up going home with the tinsel tree. I never did find that missing piece.
I must admit that I was a little irritated while she was going through my donations. But, according to Goodwill Industries, the pandemic and lockdowns made their donations skyrocket and not all of the donations are beneficial, no matter how well-intended. There is an added cost that comes from sorting and disposing of unused items. I know now that we must be selective in what items we're dropping off.
Hot Tip: Check with your local donation center before taking a trip; Aunt Susy's old mattress might not make the cut.
I was excited to find my local Buy Nothing Project, and the best part — it is entirely online and contact-free!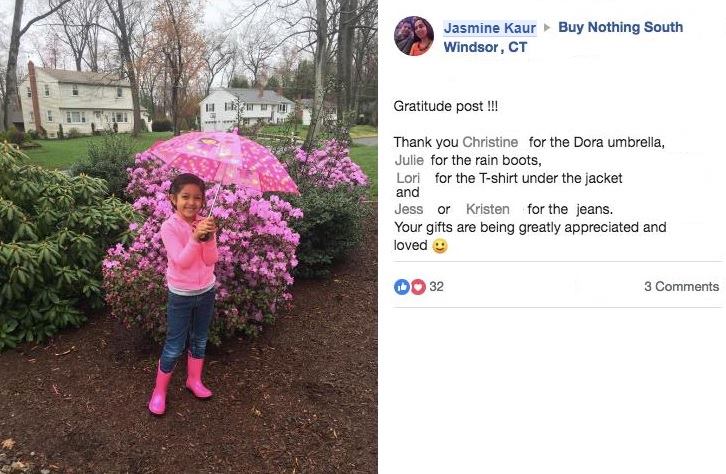 Here is how the Buy Nothing Project works. Make one of three types of posts:
Gift
Any item you no longer need. A few weeks ago I saw a set of never-used lawn Patio Outdoor Chaise Lounge Chairs; completely free! I have donated envelopes, craft supplies, food, clothes, toys — endless possibilities. For an easier exchange, be sure to add your neighborhood location/nearby points of reference and how long you can sit on a listing before loading everything into your trunk; using the words "will let simmer until____." The simmer part of the listing is to allow as many people as possible to view the listing and keep things fair. At the end of your simmer, pick a random recipient and, they will contact you for pick-up arrangements.
Ask
Any item that you need, be specific! Size, color, even brand. Pictures are encouraged to give viewers an idea of what you are looking for. My son's attitude about life comes into play here, "You won't know unless you ask!"
Gratitude
This is the kind of post that keeps the group going. Showing gratitude for items received really makes people feel purposeful and thoughtful. I have received plants and jars that I used to make appreciation gifts for the entire staff at my workplace. I've also received an adult hula hoop (learning to use it is my summer plan), a tiara for a student, and many other items. After receiving each item, I have made a gratitude post, thinking of it as the online version of a thank you note. The gifter is always been happy to see their items gave a new life.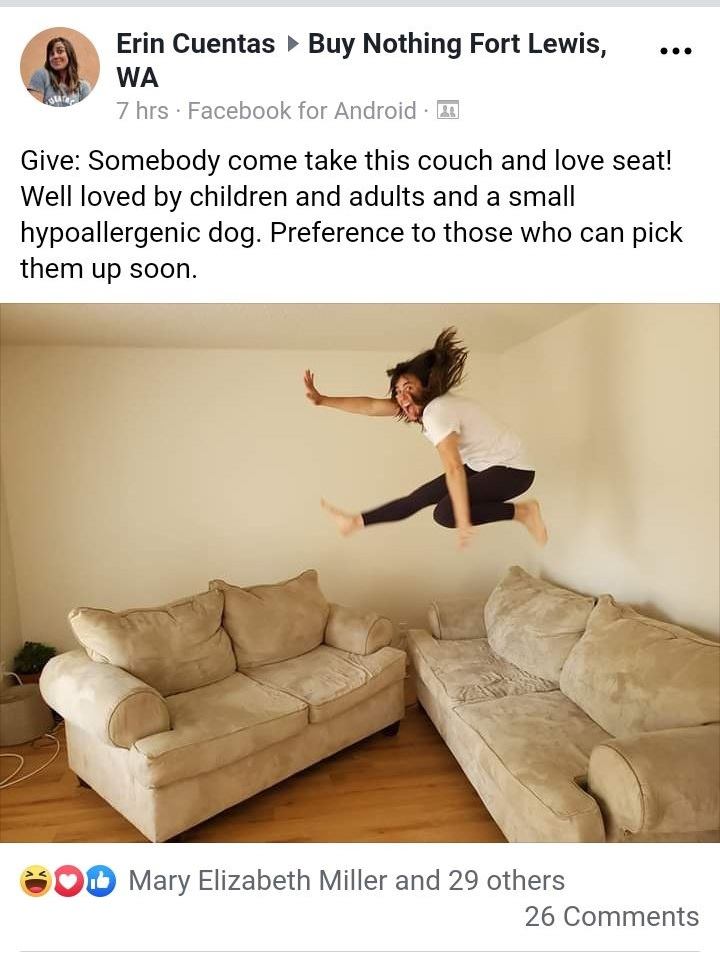 Where to start? Let's walk through making a gift listing together!
We cleared out my daughter's closet, took pictures of the items, and listed them as follows:
Gift- 3T girl clothes, mixture of summer and winter. Will let simmer until Monday. Pick up Edison Elementary Neighborhood.
Monday came and I picked a name from the interested people. By Monday night, I had a few bags of donations out of my house, all without driving around my bags until I needed the trunk space.
Now that you know about this amazing opportunity for building community while cleansing your home of Aunt Becky's floral couch, let's help you find one in your area.
The Buy Nothing Project website has a list of various groups in Wisconsin. Simply click on "join" at the top of the home page, scroll down to find the United States, and follow the link to Wisconsin to locate your local group. Now, on to the gifting and receiving (some local links also below)!
App also coming soon, currently, invite-only.