Ready, set, go! A challenge is kicking off in Appleton during the first days of May! 
Be an Appleton Park Explorer challenges families, individuals, and groups of friends to explore as many of the city's parks as possible throughout the summer. The challenge is made up of missions that you'll record using the GooseChase app sponsored by Scheels. What kind of missions? Taking photos, capturing activities in video, answering questions, and more engaging fun for families and kids!

Here are our favorite Appleton Parks that we have visited and reviewed. If you click through, you'll find park review, ideas for things to do nearby, lots of photos, and close by coffee and ice cream treats!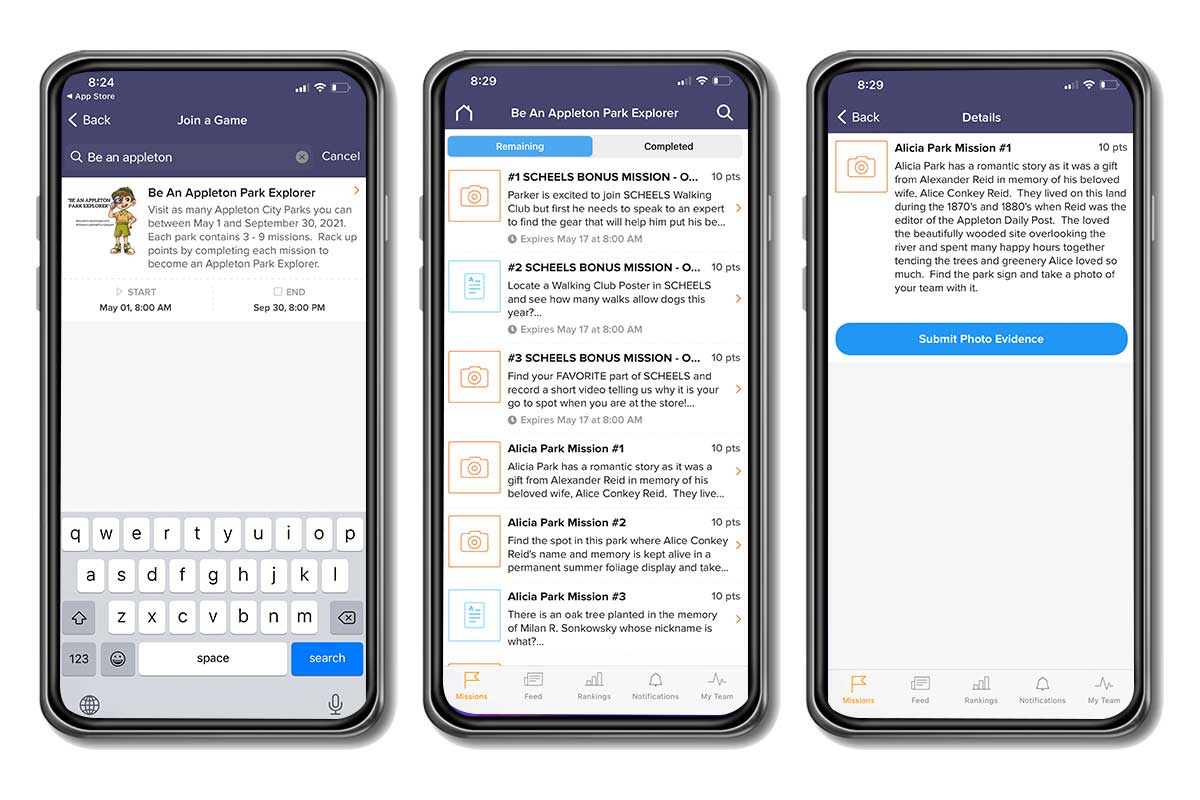 Things to Know
Complete Program Details can be found on the Appleton Parks & Recreation website!
Dates: May 1 – September 30, 2020
Registration: appleton.org

Register anytime
Groups can have up to 10 people that enter the missions together.
When is the registration deadline?
There isn't one! You can accept the challenge at any time from now through September 30, 2021. If you join later in the summer or September, you will just have less time to complete the challenge.

Where to record missions: Download the GooseChase app to your mobile device.

There will be 3-9 missions at each location.
Work on missions during parks' open hours (daylight hours).

How to qualify for a prize:
Log at least 250 points to be entered into the drawings. There will be opportunities for bonus points throughout the summer.
Is there a prize for being the first to complete the challenge?
This is a GooseChase, not the Amazing Race…complete missions at a relaxed pace! There are no incentives for fast completion of missions so please take your time, stop and enjoy all the parks. You have until September 30th to complete as many missions as possible, so do a couple per week, or a handful at a time throughout the summer.
How do teams qualify for prizes?
Six prizes will be awarded the first week of October. Teams that hit a specific point level, will be put into a drawing for that level and each point level below it. (ex. If a team reaches the top point level, the team will be entered into all six of the prize drawings.)
Here is the point breakdown:

250-750 points: Drawing for Prize #1
751-1250 points: Drawing for Prize #2
1251-1500 points: Drawing for Prize #3
1501-1750 points: Drawing for Prize #4
1751+ points: Drawing for Prize #5
Top Point Earners*: Drawing for Prize #6

*You get the most points by completing all the park mission

Be an Ultimate Appleton Park Explorer:
Complete all park missions to receive a certificate!
COVID Precautions: The City of Appleton asks that you follow COVID-19 precautions including wearing as mask when you are not able to physically distance and washing and sanitizing your hands.