On Monday, July 27, the Appleton Area School District Board of Education hosted a virtual special meeting (available to the public on YouTube) to present the AASD Safe & Resilient Return Plan. The full plan will be available for parents on Friday, July 31, 2020. AASD nurses worked in collaboration with the AASD Medical Advisor, Kurt Eggebrecht, City Health Officer, and the Wisconsin Department of Public Instruction (DPI) Nurse Consultant to review national, state, and local guidance.
Appleton families have the choice between a completely virtual option through Wisconsin Connections Academy for grades 4K-12 or Appleton eSchool for grades 9-12, full-time distance learning with AASD curriculum, or an In-Person (4K – 4th grade) / Hybrid Option (grades 5 – 12) using the AASD curriculum. The plan was approved following the meeting, details will be sent to parents on July 29, 2020
Community
One thing that resonated with us on the scope and the community impact of this project. AASD is the home of 16,000 students and nearly 2,000 employees, with a population of Appleton 75,000, this is 25% of the community's population.
Canvas
AASD will be using Canvas, a learning management system for all grade levels online. This would replace any systems like Google Classroom that was used in the Spring. This platform will be used to implement instruction and instructions and provide feedback between students, families, and the classroom.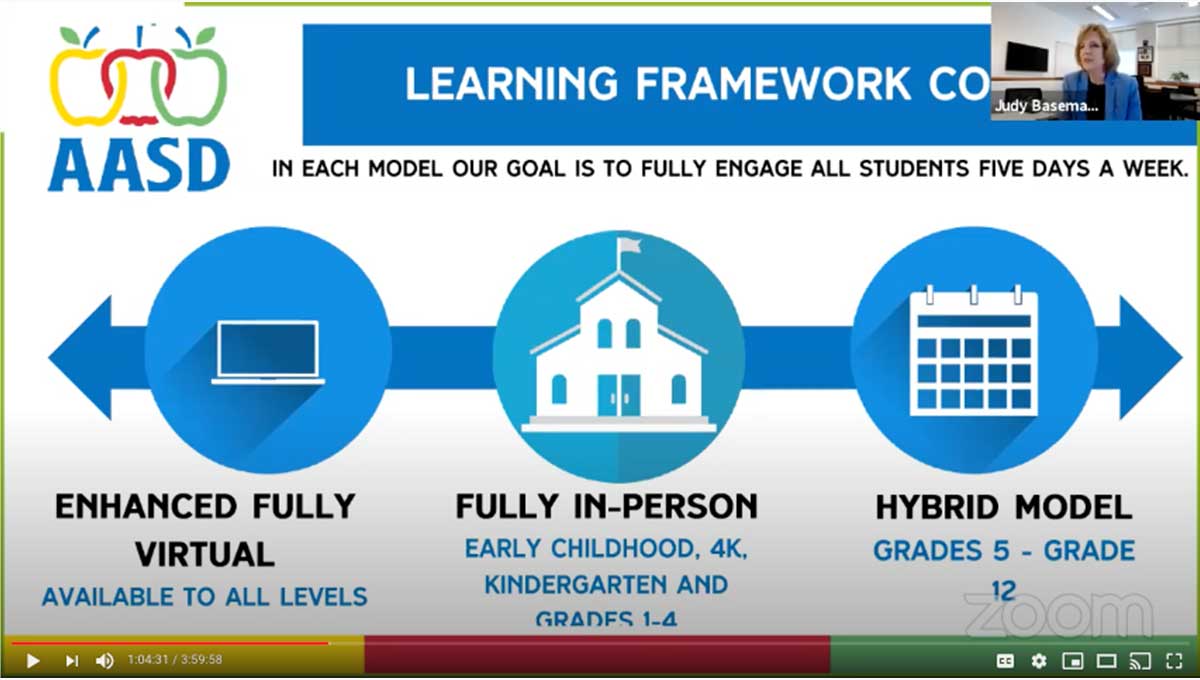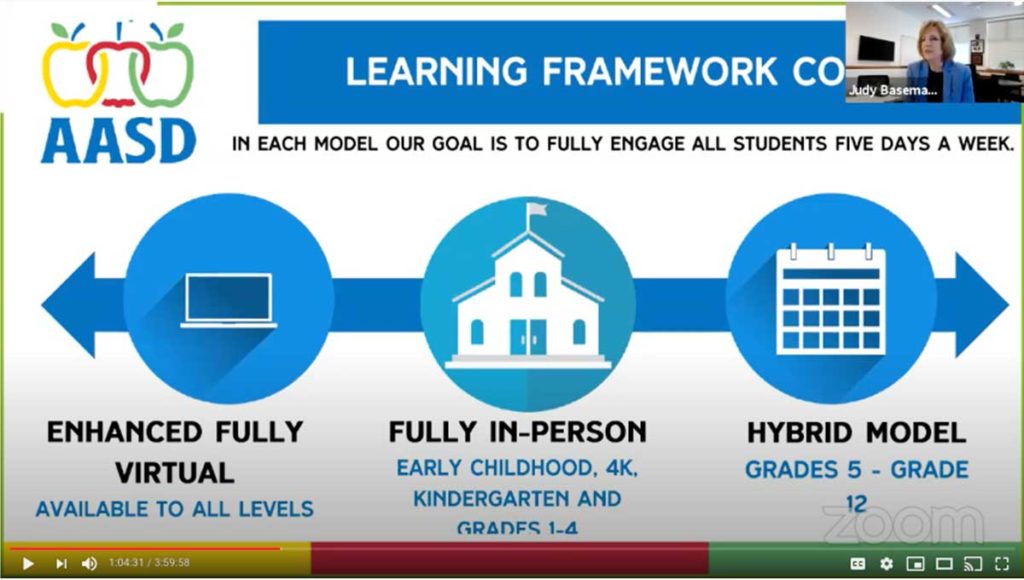 Masks
Although wearing masks is a controversial topic, science has proven that wearing a mask slows the community spread. If a family wants their students to participate in in-person learning, they must wear masks. It was discussed that in-person learning is a privilege. All students and staff will be required to wear face masks or coverings. Masks will be provided by the district and be laundered by the schools. Social stories have been developed to help students to adapt to the change. The concept of wearing masks will also be used as a tool to build empathy and compassion in the school community.
Changes
The goal is to have all students participating in in-person learning as soon as possible. There may be changes needed as conditions change throughout the school year. The safety of students and staff will always be the most important factors when considering changes to the learning environment plans.
Key Dates
July 29, 2020: Plans specific to students sent to AASD families
July 29 – August 6, 2020: Families commit to fully virtual or hybrid option
August 12, 2020: School leadership will review enrollment, current health environment, and school resources including staff to deploy plans.
Parent Questions?
Visit the District website for updates
Look for a weekly family message each Friday
Future follow up calls from student's school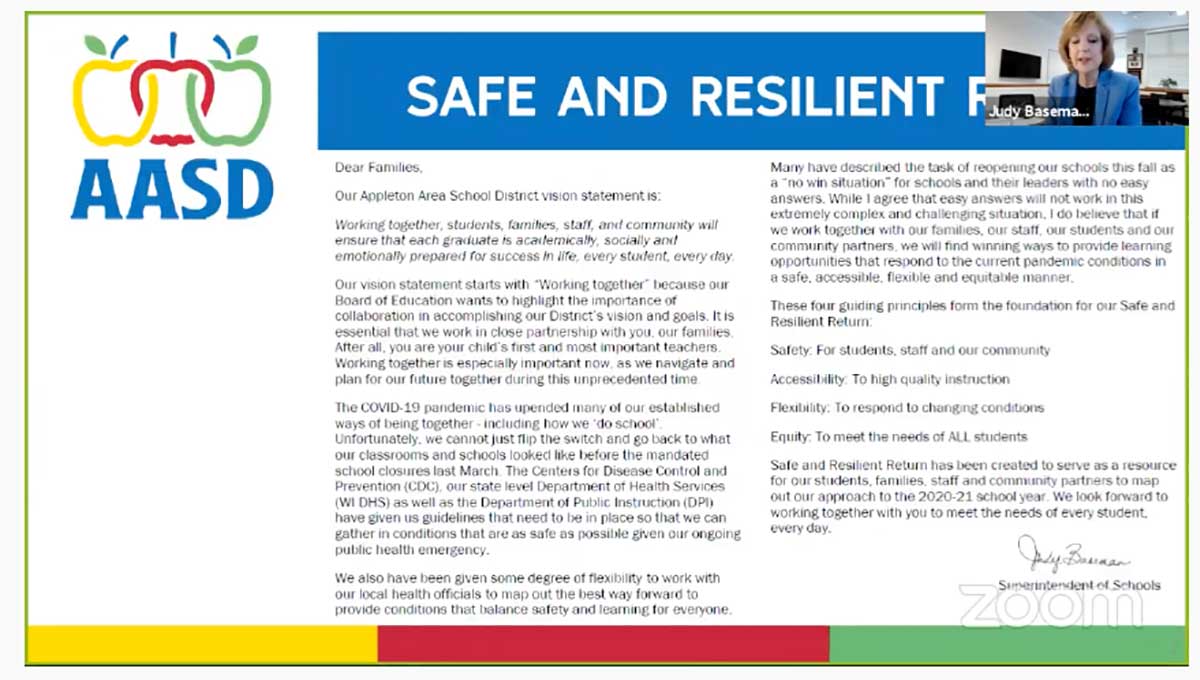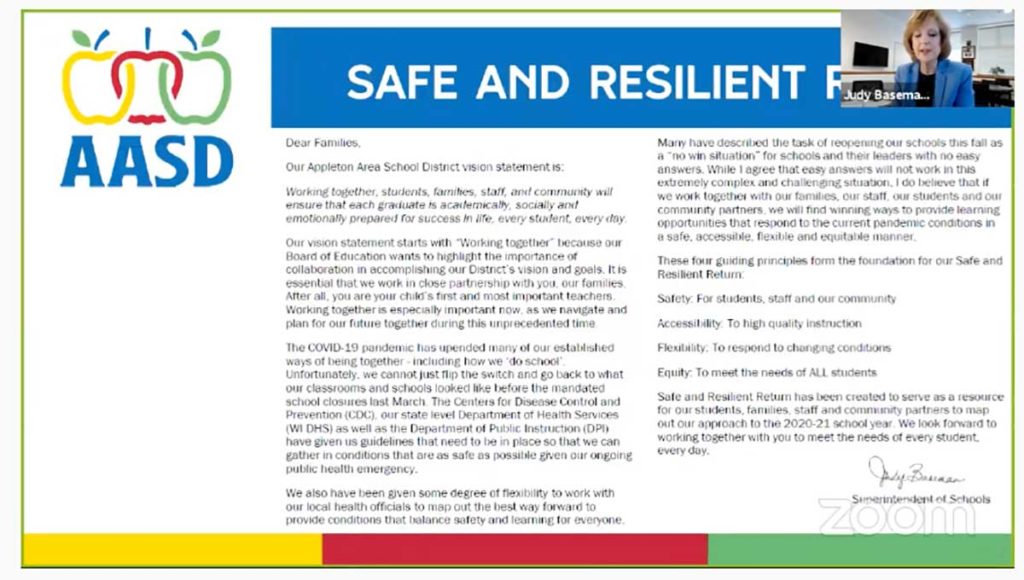 ---
Details on the very thorough plan will be updated on our original article: 2020 School Updates: Appleton Area School District
The recorded meeting can be viewed on YouTube.
A huge thank you for all of the hard work and dedication that our educators, administrators, school board, and health professionals have put into the effort to safely return our kids to school this fall.