One of our family's favorite places to cool off on these hot and humid summer days is Two Rivers, Wisconsin. Sandy beaches and water out to the horizon, the landscape is beautiful. Just about an hour drive from the Fox Valley, it's a perfect day trip.
There are 2 beaches very close to each other in Two Rivers, Point Beach State Park and Neshotah Beach. They are very similar and share Lake Michigan but also very different. The temperature is usually a little cooler with the lake. The water is also cold but warms up a little usually by late summer.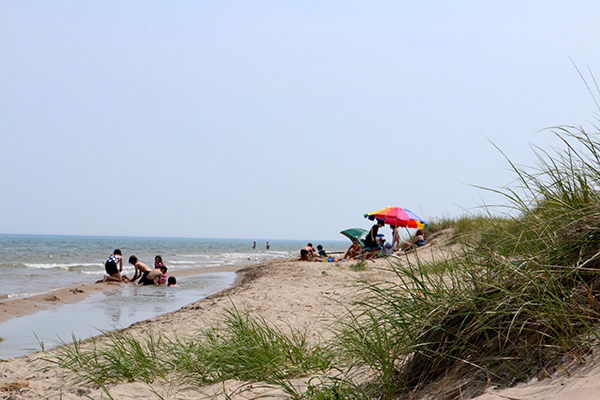 Point Beach State Park, Two Rivers, Wisconsin
Point Beach is a Wisconsin State Park. The beach is more rustic and natural. The beach is less deep with dune like sand and grasslands but is 6 miles long. It is more secluded and spread out. Mark your spot and you can forget that you are sharing the beach with other people except when they walk by. It is not very flat so it is difficult to push a stroller or wagon. Make sure your cooler isn't too heavy to carry. There are plenty of other things to do at the park as well like biking or hiking. You can also check out Rawley Point Lighthouse.
Admission for Wisconsin residents is $8 for a day pass (per car) or $28 for an annual pass (can be used at all Wisconsin State Parks).
Neshotah Beach, Two Rivers, Wisconsin
This beach is about 50 acres and a fully groomed sand beach. There are lots of areas for sand castle building, swimming and volleyball. There is also a playground for the kids (a short walk from the beach). This beach is a public beach and is free.
Washington House Museum and Visitor Center
1622 Jefferson Street, Two Rivers, Wisconsin
Open daily, free admission.
November though April: 9 am to 5 pm, May through October: 9am to 9pm
A short drive into town from the beaches, Washington House is a favorite spot for visitors. Explore the museum and antiques for free. The museum is ran by volunteers, most with deep roots in the city. Originally built as an immigrant hotel in the 1850's, the building has its original charm including its tin ceiling. The murals upstairs were added in 1906. Each room has a theme, we liked the toy/children's room and the doll house.
It is not stroller friendly but its small enough that walking through will be fine. It's also open enough that kids can walk through. You will still have to keep a close eye on them because there are lots of breakable things.
The ice cream shoppe has 18 different sundae flavors and served in classic glass bowls.
---
Looking for other ways to cool off? Check out all of our nearby favorite beaches here and our favorite ice cream spots!