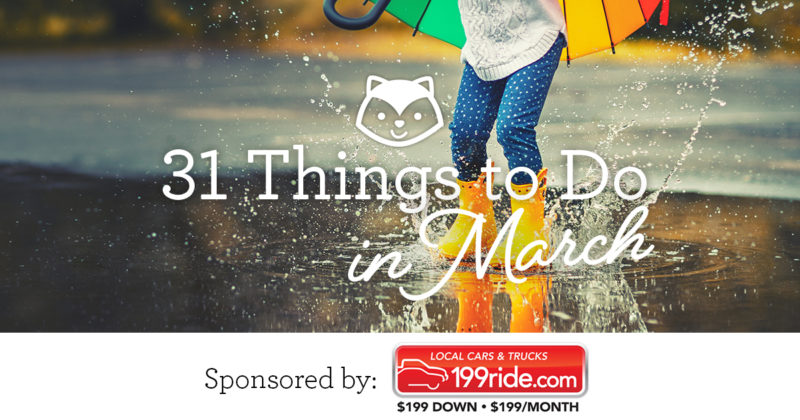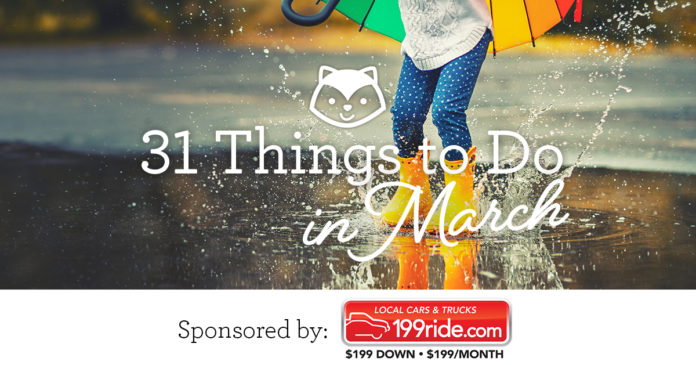 Spring is finally on the way! March can be unpredictable weather-wise, but we've rounded up 31 indoor and outdoor things to do! Thanks to our sponsor 199Ride.com for helping us plan your month of fun things to do with your family.
Build a bluebird house.
Grab a hammer and head to LH Barkhausen Waterfowl Preserve in Sauamico for a birdhouse building workshop. Learn about proper placement and care to attract the colorful birds to your yard. The workshop is on March 4th. Learn more here: Bluebird House Worskshop.
Check out Project Play 60.
Project Play 60 is a Green Bay Packers sponsored FREE community event that focuses on getting kids out and active. The March 17th event features inflatables, climbing walls, bungee trampolines, face painting, and a ninja obstacle course. Find out more details here: Project Play 60.
Try out the Open Gym for Kids at Ferber Elementary School in Appleton. Open gyms are for FREE kids in Kindergarten through 8th grade from 1pm – 4pm on Saturdays through March 4th.
Plan your spring break!
Thinking of a road trip? We've got ideas for you to visit Madison, Milwaukee, The Twin Cities, Wisconsin Dells, and more in our Family Road Trip Round Up!
Battle that spring cold with a visit to The Salt Room in Appleton! There is a room for kids with a salt pit and sand toys; boredom busting and sinus healing all in one.
 Hit a Toddler Open Gym! There's somewhere to take your little ball of energy every day of the week to run around and play!
 Head out for dinner to a spot where Kids Eat FREE (or cheap)! There's a spot you can take a night off from the stove and the clean up every day of the week around Northeast Wisconsin.
Head out to Heckrodt Nature Reserve on a warm day for a walk around the boardwalks.
Create some art!
Check the Go Valley Kids events calendar for different opportunities to take a class or drop in on a library event to be creative. If you're looking for something new indoors, visit our Art Kids Pinterest Board, or try out a tutorial from Art for Kids Hub! Their easy to follow drawing lessons led by a super sweet dad are a huge hit with my four and ten-year-olds (and also me!). In addition to paid memberships, there are loads of free lessons on their website and YouTube channel.
Catch the last movies in the Kids Dream Winter Film Series! These family movies show on Friday, Saturday, and Sunday mornings. You can print out free tickets or pay just $3 at the door!
Check out the Milwaukee Art Museum! Thanks to Kohl's kids get in FREE! We have the inside scoop on activities for families and all of the tips you'll need for a great day.
Visit New Dublin (aka New London) for their parade and Irish Fest on Saturday, March 17th.
Have mint ice cream or a mint shake at a new ice cream spot. Find inspiration here: 15+ Best Ice Cream Spots in Northeast Wisconsin.
Celebrate Pi Day!
On the 14th, make a pie, buy a pie, do some math. Go nuts.
Eat Fish Fry!
Hit up your old standby or find a new place to try in our Fish Fry Guide!
Visit the Paper Valley Model Railroad Club.
Celebrate Teddy Token's 5th Birthday!
Funset Boulevard mascot, Teddy Token turns five on March 24th. Head to Funset with five non-perishable food items to receive TWO FREE unlimited wristbands. Enjoy half-priced laser tag from 11am – 5pm and cake with Teddy at 2 pm.
Go swimming!
Take a break from the weeknight routine and find a great deal at Badger Sports Park! They have games, inflatables, laser tag, and really delicious pizza!
Visit one of these great for spring parks on a warm day!
Try out a new Indoor Playground.
Go roller skating!
Check out our tips for a fun time and find out how to score FREE skating passes for your kids! Find it all here: Family Roller Skating in Northeast Wisconsin
Start your spring cleaning!
The first signs of good weather always make me want to do two things. First open a window. Second is clean a closet and rearrange some furniture.
Lace up your shoes or tune up your bike and head to an area trail.
Find a new trail here: 10 Family-Friendly Trails.
Plan family photos for this year.
Check out our guide to area family photographers!
Visit The Salvation Army Kroc Community Center in Green Bay.
There are so many things to do at the Kroc Center. Check out their amazing swim area and more here: Top 10 Things to Do at the Kroc Center.
Take your smallest family members to run off some energy at an Open Gym!
Head out for an Easter Egg Hunt!
Find your issue of March's Sprout Magazine or start your subscription!
Check out our sponsor, 199ride's 5 Ways to Keep Your Kids Occupied on Long Road Trips before you head out on your March adventures that take you away from home!
---
Hit the Open Road in a Used Car from 199ride
As you close one chapter of life and open the next, you deserve a vehicle that's going to make getting there easier. No matter what you're looking for, 199ride has an option perfect for your lifestyle. Visit 199ride's used car dealership today to check out our extensive inventory of comfortable, affordable vehicles to find the Nicer, Newer™, Worry-Free car right for you!
199ride.com has dealerships across the state of Wisconsin, with five convenient locations that offer used cars in: Green Bay, Appleton, Wausau, Antigo, and La Crosse. Our team works with your budget, credit, and wish list to find a vehicle that's right for you. Start your next adventure in a car from 199ride today.