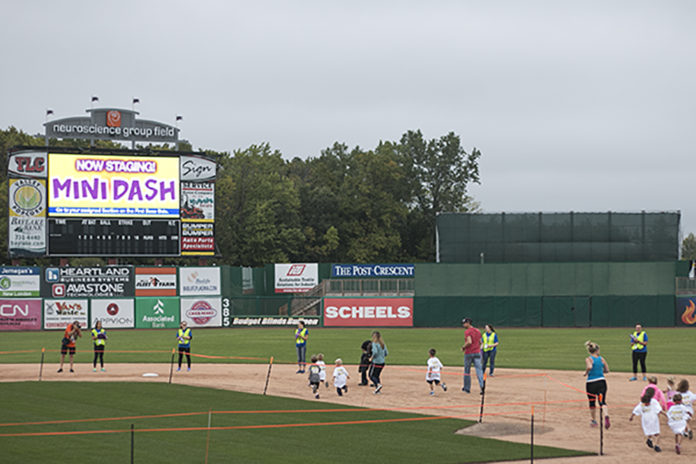 Full disclosure * I am not a runner. I think about running, I occasionally wish I was a runner, but I'm not…and I am okay with that. You know the joke, if you see me running look behind me because I am most likely being chased. Yeah, that's me. I'm active and exercise, but I am more apt to finding my zen on the yoga mat versus listening to my heart beat, (errr, I mean pound), in my ears and wondering if I can make it to the next corner. My girls, however, are showing quite a bit of interest in running. My husband and I try really hard to not focus on weight, but rather to encourage a healthy, active lifestyle. We do this by setting an example for our girls. So, this summer we have decided to register for at least one kid-friendly or family fun run. Here is a list of summer fun runs I found in our area. Perhaps we will see you on the course!
---
May
Saturday, May 27, 2017
sam 5.0 – The Littlest Tumor Foundation is excited to announce their annual "sam i am"..tumors i do not like them 2.5/5 run/walk for a cure! This event takes place at Plamann Park to help raise money and awareness for Neurofibromatosis!
Location: Plamann Park,1375 E Broadway Dr, Appleton, Wisconsin
Start Time: 8 am
---
June
Saturday, June 3, 2017
Eagles Wings 5k – Everyone is welcome to participate in the 5K run/walk whether you're a serious competitor or out for a casual stroll with friends. You will enjoy our beautifully-wooded route running through Friendship State Trail and Mike Ariens Run for Life Trail. Our event is family-friendly and features an untimed 1K kid's race following the 5K.
Location: Holy Family Catholic School, 209 N Custer St, Brillion, Wisconsin
Start Time: Registration starts at 7 am / Race starts at 8 am
Sunday, June 4, 2017
Oshkosh YMCA Kids Mud Run – Kids ages 2 to 13 can experience a wet and muddy 1-mile course with over 12 obstacles.
Location: 20th Avenue YMCA, 3303 W 20th Ave, Oshkosh, Wisconsin
Start Time: 1 pm (run will start in waves based on child's age)
Friday, June 9, 2017
Paws for a Cause 5k Run/Walk – Walk or run with your dog! All proceeds benefit the Seymour Police K9 Unit and is sponsored by the Seymour Girl Scouts. Register early to be guaranteed a goodie bag and race tshirt. Registration is available the day of the event as well.
Location: Depot Street Park, Downtown Seymour, Wisconsin
Start Time: 6 pm
Saturday, June 10, 2017
Kids Day at Plamann Park – This is a fundraising event in support of new community play structures in Plamann Park. There are a lot of activities planned throughout the day, starting with a 5K or 1-mile trail race. It is $10 to register and they are taking registrations through Friday, June 9 at 10 pm.
Location: Plamann Park,1375 E Broadway Dr, Appleton, Wisconsin
Start Time: 8 am
Saturday, June 17, 2017
Father's Day 5k (Previously the Bret Younger Run) – The YMCA Father's Day 5K is open to everyone! Not just dads! Bring the whole family to create a unique and lasting family memory, participate with your father, in memory of your father, or just to celebrate fathers everywhere. The event winds through picturesque areas of Appleton, including the scenic Apple Creek Trail before a stadium finish at North High School. Perfect for all ages and abilities. Imagine, the fun you and your family could have! If you want an unbeatable experience, then this is the race for you!
Location: Appleton North High School, 5000 N. Ballard Rd., Appleton, Wisconsin
Start Time: 8 am
---
July
Tuesday, July 4, 2017
Fox Firecracker 5k Walk/Run – This family friendly event starts at River View School in Kaukauna. Register as an individual, family or for the special Fox Fun Run for Kids presented by Unison Credit Union. Fireworks, the UW-Madison Marching Band, and apple pie adds to the excitement of this fun summer event! To celebrate the 10th anniversary of this event there are 2 days full of family friendly activities featuring the band Road Trip the evening before and all finishers of the 5K and kids run will receive a custom medal.  
Location: River View Middle School, 101 Oak St, Kaukauna, Wisconsin
Start Time: 7:40 am (kids fun run); 8 am 5K
Liberty Run – Family Fun Run sponsored by the YMCA in a quarter mile or half mile. Parents are encouraged to participate with their child(ren).
Location: Riverside Park Pavilion, 500 E Wisconsin Ave, Neenah, Wisconsin
Start Time: 8:45 am
Saturday, July 8, 2017
Kickin' It with the Cows – DairyCares presents this inaugural event to raise funds for Children's Hospital of Wisconsin. Run or walk the 1 mile, 5K or 10K along the scenic Fox River. The course starts at Voyageur Park, moves onto the Fox River Trail and crosses the DePere Bridge on the mighty Fox River. It goes through St. Norbert's College Campus then back to the park incorporating the Fox River Pier for a beautiful panoramic view. Cows and goats will be at the finish line for photo opportunities!
Location: Voyageur Park, 100 William St, De Pere, Wisconsin
Start Time: 7:30 am
Fishy 5k – Reel in the fun at the Fox West YMCA Fishy 5k Walk/Run and Minnow Mile Fun Run. Prizes are being awarded to the best fishy themed costumes.
Location: Fox West YMCA, W6931 School Rd, Greenville, Wisconsin
Start Time: 8:15 am
Friday, July 21, 2017
Packers 1K Kids Run – Packers, Bellin Health Back to Football events kick off training camp at Lambeau Field. In addition to the Bellin 5k, Back to Football also includes the Packers 1K Kids Run presented by Edvest. Kids 10 years old and younger will have the opportunity to run a Lambeau Lap on Friday, July 21, at 6 p.m. Registration for the Kids Run is $10 and all participants will receive a Packers 1K Run t-shirt, a logo bag and a participant medal. Registration is $10 and online registration closes on July 19.
Location: Lambeau Field, 1265 Lombardi Ave, Green Bay, Wisconsin
Start Time: 6 pm
Saturday, July 29th, 2017 
Cole's Cancer Crusade – A fun kid's obstacle course to raise money for Snowdrop Foundation WI. Other family friendly activities that will be at the event as well from music, silent auction, Kona Ice, Irish Dancing, SWAT Team, and more!
Location: Appleton East High School, 2121 E Emmers Dr, Appleton, Wisconsin
Start Time: 8:30 am
---
August
Sunday, August 13, 2017
Neenah Cross Country 5K – This year the Neenah Cross Country 5K is partnering with the Grunkski Runski.
Start Time: 5:45 PM
Location: South Memorial Park Pavilion in Neenah
---
September
Friday, September 22, 2017
Fox Cities Marathon Kids Fun Run – Officially end summer by joining in the fun of the Community First Credit Union Fox Cities Marathon the evening before the big race by having your kiddo run the Guardian Kids Fun Run at Neuroscience Group Field, Fox Cities Stadium. Games, food and activities will be happening all evening long. Same-day registration (space permitting).
Location: Neuroscience Group Field, Fox Cities Stadium, 2400 N Casaloma Dr, Appleton, Wisconsin
Start Time: 4 pm
---
All Summer Long – Multiple Dates
Appleton Kids Fun Runs – The Appleton Kids Fun Runs are happening on Sunday evenings throughout the summer. Providing an opportunity for kids ages 2-12 of all levels and abilities to participate. These runs are FREE and take place at Memorial Park, west of the universal playground. They are very popular, so prior registration is encouraged.
KARC Kimberly Area Running Club Fun Runs – Sundays June 11, June 25 and July 9. Register at 6 pm, run at 6:30 pm at Kimberly High School. 1 or 2 mile cross-country style courses through trails, fields, and hills. Free registration. All ages and abilities welcome. Refreshments supplied after the run. Ribbons to all finishers; T-shirts for finishers of all 3 runs. No pre-registration.
Neenah Summer Fun Runs – Neenah hosts summer fun runs on Sunday evenings during the summer starting May 21, 2017. Kids can enjoy a summer run and earn awards. Ages 6 & under may run 400 or 800 meters, Ages 7-9 run 800 meters, Ages 10-14 run 1600 meters. Run starts at 7 pm at South Memorial Park Pavilion in Neenah. To register and find dates visit their website online.
Kids Base Run – While this is not an official run, it is pretty fun for kids! If you find your family at a Brewers Sunday home game, all kids 16 and under can come down to the field and run the bases at Miller Park. Kids Base Run line begins along the first-base line on the Field Level. For more family-friendly promotions check out the Milwaukee Brewers Baseball Club.
---
To see what's happening near you or to post your own event head over to the GVK calendar.
Save
Save