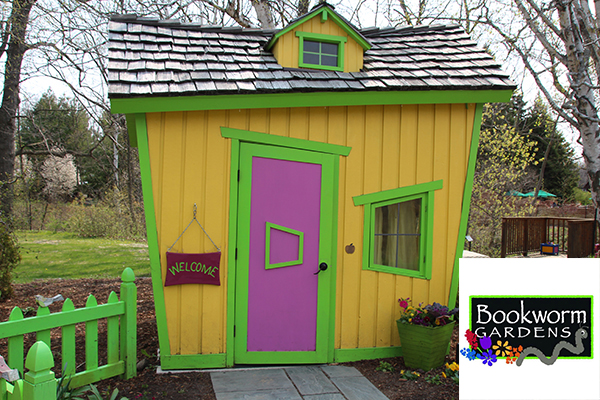 Some things have changed at Bookworm Gardens since my visit last year during my Sheboygan Family Day Trip. Last year, part of the garden was under construction, but now it's all open and waiting for folks of all ages to frolic on its paths and explore all of the children's book themed exhibits!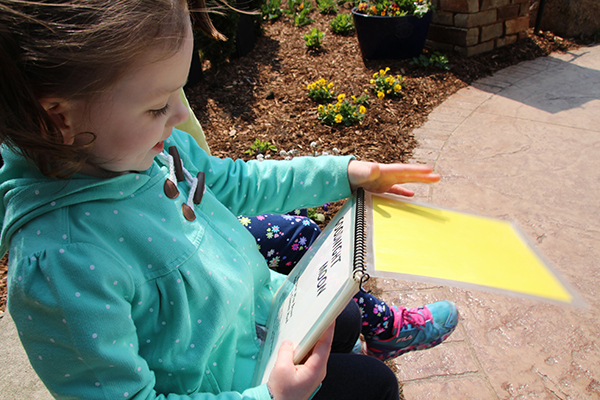 Bookworm Gardens, located in Sheboygan, near the University of Wisconsin-Sheboygan campus, opened earlier this month on May 1st and I couldn't wait to make another trip there. We saw all of our old favorites, like the Farm Garden and Magic School Bus, but there were also some new areas to check out!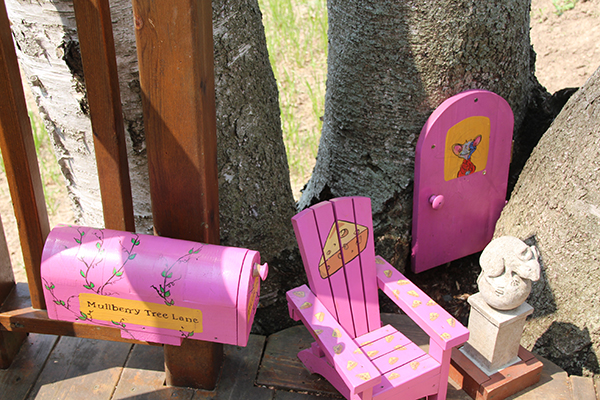 A new section of the garden is a mini replica of the greens of Kohler's Whistling Straits. This exhibit, located near the Twitch mailbox and the Monster House, is sponsored by the PGA REACH, the PGA Tour Wives Association and the Kohler Company.  Connor the Caddie, authored by Wisconsin local, Ulrich Koberstein, and illustrated by his wife, Christine Koberstein, is the inspiration for the exhibit.  Connor the Caddie is a children's picture book that tells the tale of a sheep who is tired of his mundane life and dreams of becoming a caddie.  The new section features a clubhouse, two cast iron sheep that the kids can climb on and a Whistling Straights sign.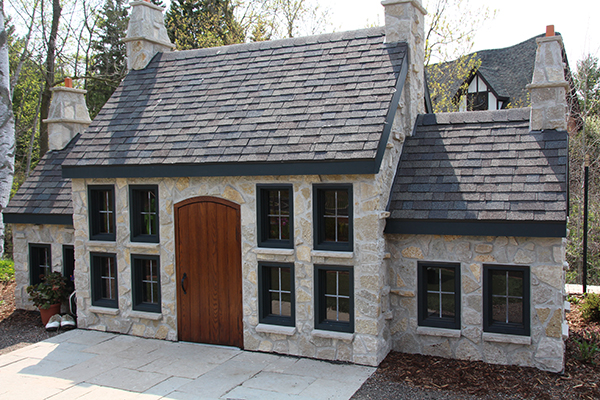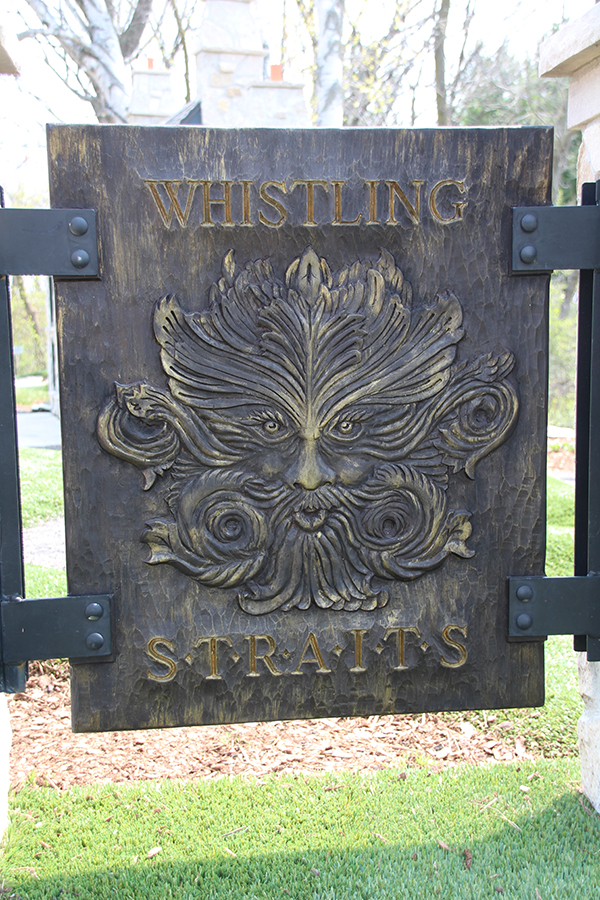 Another small exhibit that caught my eye this time was the turtle near the entrance to the park, right next to Harry the Dirty Dog. The turtle was inspired by another local author's book, Water is Water, by Miranda Paul. I love that Bookworm Gardens honors Wisconsin writers!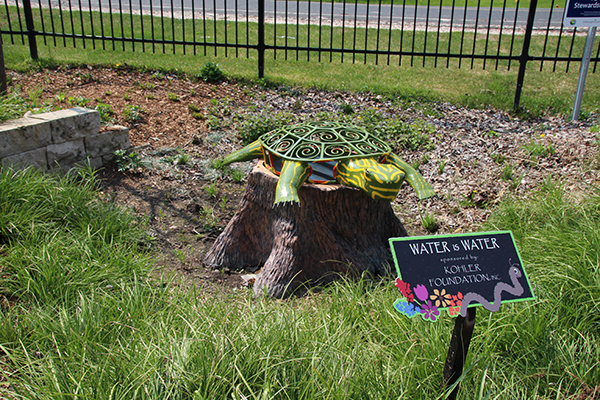 We couldn't end our trip to Bookworm Gardens without making a stop in the gift shop. The shop is small, but offers a variety of books, toys, games and t-shirts. They sell pinwheels, balls, puzzles, eeBoo toys and more!
No trip anywhere is ever complete without at least one potty break! Even the bathrooms at the gardens are decorated in a literature theme! And, they have toilet seats that have a child seat built in, so there's no fear of your little one falling in!
I hope after reading this you want to plan your own trip to Bookworm Gardens!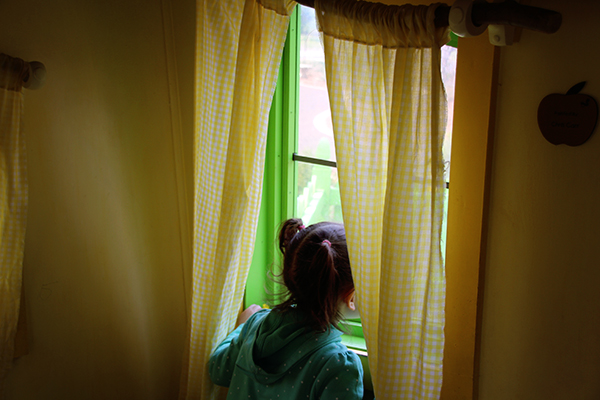 To help you with your planning, here are some of the basics about the gardens:
Admission is FREE, but donations are appreciated!
Location
1415 Campus Drive, Sheboygan, Wisconsin 53081
Normal Hours
Monday through Saturday, 10 am to 4 pm
Sunday, 12 pm to 4 pm
Special Hours
Tuesday and Thursday evenings the gardens are open until 8:00 p.m. between June 15th and August 31st.
Note that the gardens may close due to inclement weather that could lead to unsafe conditions.
Special Events
(check out the Bookworm Gardens website for more details!)
June 23, 2017 – Solstice Celebration
June 24, 2017 – Pollinator Picnic
July 22, 2017 – Fairyfolk Festival
September 23, 2017 – Harvest Happenings
October 13-15, 2017 – Sheboygan Children's Book Festival
October 20-21, 2017 – Happily Haunted Garden
October 26-28, 2017 – Happily Haunted Garden
October 31, 2017 – Last Day of the Season
Other Helpful Information
Parking is FREE!
Children must stay with an adult at all times.
No running in the gardens.
Food and beverages are allowed in the garden (no alcohol), but you must dispose of your own trash offsite.
Smoking, firearms and pets are prohibited.
Please be respectful of the gardens and do not walk through the plants and flowers, or swim in the pond.
 Photographs are allowed.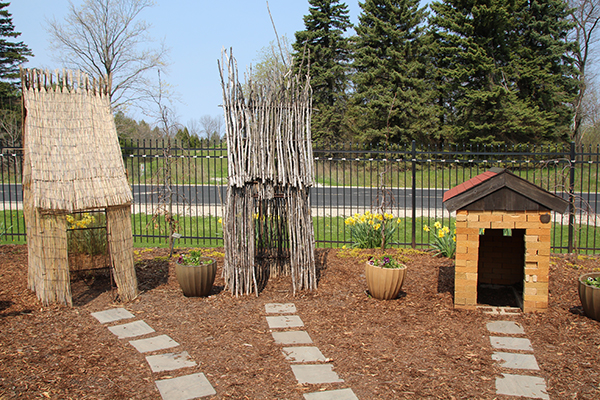 ---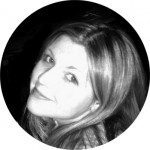 Meghan Petters is a Wisconsin native, and currently lives in the Fox Cities with her husband and spunky toddler. She spends her workdays in a gray, water-stained cubicle, drinking skinny vanilla lattes, attempting to make sense of the legal system. Her dream job is to make mix tapes for her friends all day on her Sony dual cassette boombox. Meghan enjoys music and movies, baking, road trips, writing, photography, daydreaming, getting her feet rubbed and, most recently, coloring with her daughter.
Read more from Meghan here.
---
Enjoy Northeast Wisconsin with family and friends this summer! Find more things to do with the 2016 Go Valley Kids Summer Bucket List sponsored by Fox Communities Credit Union.